Take a series of technological innovations (such as smartphones), add the advances in infrastructure (such as fiber optic or 4G), complete with a good dose of social media, you would get the trend of the moment: live video.
Video will gradually dominate Internet use in the years to come, increasingly adopted by Internet users and businesses alike. But are the brands really ready?
According to Dan Pfeiffer, former communications advisor to Barack Obama, the live video could " do on television what blogs did on newspapers ". And yes, we unsheathe our smartphone at the slightest abnormal scene that presents itself in front of us. Photo sharing is a huge success, today it is video's turn to have its heyday. However, Internet users are not the only ones to use digital film. Brands, too, invest their social accounts with videos, always more fun and attractive, to communicate with their audiences.
The numbers speak for themselves:
> Video will represent 80 to 90% of global Internet traffic by 2019;
> 1/3 of Internet activities were devoted to watching videos in 2016, a volume multiplied by 8 over 1 year;
> In 2016, viewing of video on mobile will be multiplied by 8;
> 8 billion videos are viewed every day on Facebook!
In addition to streaming or on-demand programs, new platforms such as meerkat et Periscope emerged as precursors; providing users with the ability to broadcast live video. From March 2015, La Poste invested in Meerkat, apps for broadcasting a video live on Twitter, on the occasion of the launch of the new brand identity of its Geopost subsidiary.
[excluded] In a few minutes on #meerkat the live unveiling of Geopost's new brand identity #LaPostelive #The post office

- Le Groupe La Poste (@GroupeLaPoste) March 18, 2015

A month later, Orange was betting on Periscope with the #AidezVictor operation: Internet users had to coach Victor before his "date" with Chloé.
A bunch of friends, an arranged meeting and the hero of our latest film who is going to need you! #HelpVictorhttps://t.co/xSSjh7MvMj

- Orange France (@Orange_France) May 18th

Always on the lookout for innovations, Facebook is not left behind with Facebook Live allowing a brand to broadcast a live video from its page to its fans. Michel and Augustin have become real experts : teasing before the live, live broadcast of an event, immediate responses to comments from fans.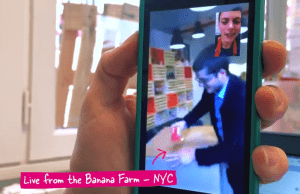 Likewise YouTube has set up YouTube Live, an interface dedicated to the retransmission of events and free! The Fanta brand and the Norman Youtuber performed last March a live show with this Google solution.
Live video thus makes it possible to extend a private event by making it accessible to a greater number of people posted in front of their screen, whatever it is. It also (and above all!) Helps to strengthen the affinity relationship between a brand and its audiences. Although live video is perceived as an attractive format, few advertisers take the plunge due to lack of know-how, tools and an appropriate internal organization. " Much of the recent attention to video has been about user-generated content. However, one point has not yet emerged: use by and in the company of video intended for daily communication with customers as well as internally between employees. ", According to Feng Li professor of information science at the University of London.
Periscope and company set the bar high when it comes to user experience. Brands need to meet these expectations by being present in these audience crossroads and by creating the same conditions for live video communication in "secure" spaces dedicated to customer relations.