Do you like Fnac Live? Do you collect goodies at festivals and shake good zik in pubs? Communicating friends, this "Brands and Music" trilogy ("M & M's" for close friends) is made for you!
Many brands today collaborate with artists to offer a real experience to their audiences. Integrate music into your brand content strategy? Yes, by considering it as a vehicle for both positioning and segmenting emotions. The studies show a diversity of music consumer profiles: so many opportunities for brand engagement!
Possibility # 1: image association with an artist
Historically attributed to sportsmen and artists of great renown, the endorsement enables a transfer of values ​​by directly associating the artist with the brand. The artist thus becomes a sort of ambassador: he takes part in communication operations and events, like Beyoncé, who has become a true diva of brands. At the heart of the Pepsi campaign in 2012, the singer appeared in the Superbowl spots before her half-time show, but also on collector packs and a poster campaign. A "mutually beneficial collaboration" according to Pepsi, which took advantage of Beyoncé's position as a prescriber to an international target for the modest sum of $ 50 million.
In the world of ready-to-wear, we also remember the 2013 H&M campaign featuring Beyoncé and his song Standing on the sun. Or the very rock windows of Galeries Lafayette in 2011 with a Iggy Pop as Santa for their advertising campaign "Noël Rock'n Mode" (TV, radio, web device). During the month of November, the department store invited other artists such as Brigitte, Miss K or Charlie Winston for concerts in an atypical place: its Christmas windows.
Endorsement is not reserved only for recognized artists and also goes well with young artists. Google Chrome, in its corporate advertising "It's up to you to create the web", staged a powerful story telling around the career of the young singer Irma. A device that moves away from simple musical synchronization and positions Google as an accompanist for artists, thanks to the connection with their fans. One way to put its devices in pictures, and to create an emotional relationship between the brand and its users.
Latest example to date, Crédit Mutuel gives the "La" to Matt Pokora in his last clip "This year". The "LA" of the Bank appears in music while in branch, customer advisers offer their clients to add the singer to their bank card. An exchange of good process which will perhaps allow Crédit Mutuel to score points on the youth market.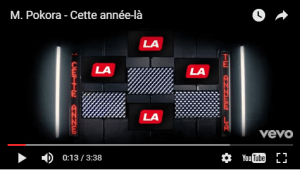 Meet at next episode of M & M's (Brands and Music) to discover the other possibilities of associations offered by music to brands!