Virtual reality, with its big black helmets, intrigues us. Feeling like a zombie hunter, a millennium falcon pilot or walking through the void, all without leaving the heat of your living room, is now possible. Ok, but the brands in all of this? Can they offer new experiences to tell them even better?
Virtual reality or augmented reality: kézako
The virtual reality » (or "VR" for virtual reality), our topic of the day, is a technology which allows to simulate the physical presence of a user in an environment (re) created by computer. It is an experience that can be immersive by appealing to senses such as sight, touch, hearing and smell. This is what is now offered by the video games of the Playstation VR or the HTC Vive.
The augmented reality »
is superimposed on the user's environment in real time. This technology provides additional information on a set of actions (taking measurements, waiting times at the restaurant, public transport traffic but also advertising) and was highlighted by Google Glass lights; and more recently by the game "Pokémon Go".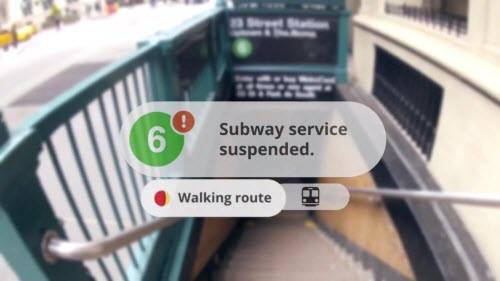 My brand in "virtual" mode…
If brands immediately detected the interest of "embedded" in augmented reality in the consumer's retina, they have had more difficulty finding how to take advantage of the "virtual" to provide value-added experiences - apart from a new way of presenting products. However, a few examples stand out and can inspire us!
... to tell his story
BOSS,
a luxury tequila brand, wanted to make its brand attributes and know-how speak by showing the path of its products, from Mexican fields to hotel glasses. A process as playful as it is instructive which has allowed the brand to become more democratic.
... to go behind the scenes and recruit
This is the bias of the audit firm Mazars with the project "
Inside 360 ​​by Mazars
» (directed by the agency SmartVR Studio). Future recruits can experience their first day at Mazars in an immersive and interactive mode thanks to VR.
Interview – Virtual reality for " show Mazars from the inside »
Mazars is the first French company to have used virtual reality for an employer branding operation. Discussions with Olivia de Faÿ, Head of Talent Acquisition & Employer Branding at Mazars France.
"Inside 360 ​​by Mazars" is part of our employer brand strategy based on a strong corporate culture and the transparency of our message.
The objective of this operation is to differentiate us from a very popular target - students and young graduates of Grandes Ecoles. It also allows us to unveil two of our strengths to which these young people are sensitive: innovation and the offbeat tone of our communications.
Read the rest of the interview
Why choose this technology?
The use of virtual reality makes sense: it allows us to achieve a totally immersive experience, to show "Mazars" from the inside using state-of-the-art technology. It is also in line with our previous experience called " Looking For Talent which used Linkedin Connect. At Mazars, innovation is at the heart of our employer brand strategy.
How do you promote such an operation to your audiences?
We communicate on our social media and on our careers site, but also directly with students, during our school events. We have them test VR at our booth and distribute Cardboards so that they can test the experience when they are home.
The first feedback is positive. We note a real enthusiasm from the students when they try a virtual reality experience for the first time on our stand! The candidates invited for interview also tell us that they recognize the places thanks to this immersive and realistic experience. And even if it is still too early to take stock of the operation, it clearly arouses the curiosity of our targets: in less than a month, we have already recorded more than 20 connections to the site!
Did this operation resonate with the "Mazarians"?
We always communicate internally before launching an external communication. And the feedback is positive because the image we show is true to life. Some collaborators have even lent themselves to the game and are visible in the experience! In addition, the experience has aroused the interest of other Mazars offices which are considering an adaptation in their country ...
Preparation for interviews, site visits… Virtual reality, a new expression of the employer brand?
... to share his passion for sport
Coca-Cola
is one of the major football sponsors in the world. If it is already accompanying the fans in the stands, the brand has decided to go further by offering a unique experience: that of attending half-time from the locker room. An original idea which we can only regret the very "cartoon" aspect!
... to amplify the reasons for its commitments
In New Zealand, the
Unicef
used virtual reality to share the daily life of a young Syrian refugee. An intense 8-minute experience that doubled the number of donors and left a deep impression on the participants.
… But never for free!
Like all new technologies, virtual reality attracts communicators! If its use makes sense and really allows users to live a unique experience, it is sometimes used as a gadget, fun but useless… This is the case of MAIF with "
My data and me
", an interesting training program but in which the VR experience is not a "plus". Many examples prove to us that if you want to show your "innovative" side too much by using the latest but poorly adapted technologies, you appear outdated. Damn!
And the virtual reality headset in all of this?
In addition to helmets from manufacturers like Sony or Samsung, Google has developed a mask that works with a smartphone and a "
cardboard
», Cardboard viewfinder. This lower-cost alternative is very successful and also allows brands to express themselves!
Beyond the classic personalization, McDonald's or Coca-Cola had the good idea to transform their iconic packaging into "cardboard". One buys !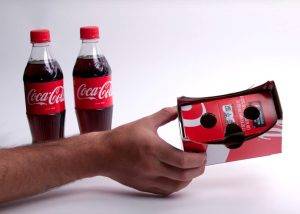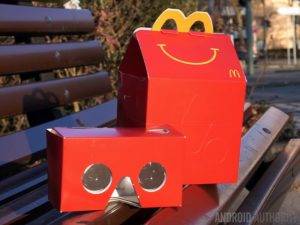 In the end, yes, let's switch brands to virtual reality. As always in communication, this tool must be the effective solution to a specific need - and not the other way around. Don't create campaigns to use VR at all costs!
Product communication, sponsorship, patronage, employer brand... There are many opportunities to use VR, not to "tell it all", but to share a unique experience with our audiences.