A post-it on the edge of the screen, a schedule in Excel, a "to do list" in Word shared by email or on the cloud,... Aren't we wasting time with these tools, sometimes from another time ? The advent of web services and the dream life of "working in start-up mode" are revealing new working methods driven by easy-to-use, fun and ultra-connected applications. We would be wrong to deprive ourselves of it.
Here are 5 tools (and a bonus 👌🏻) to streamline teamwork and save time every day!
SLACK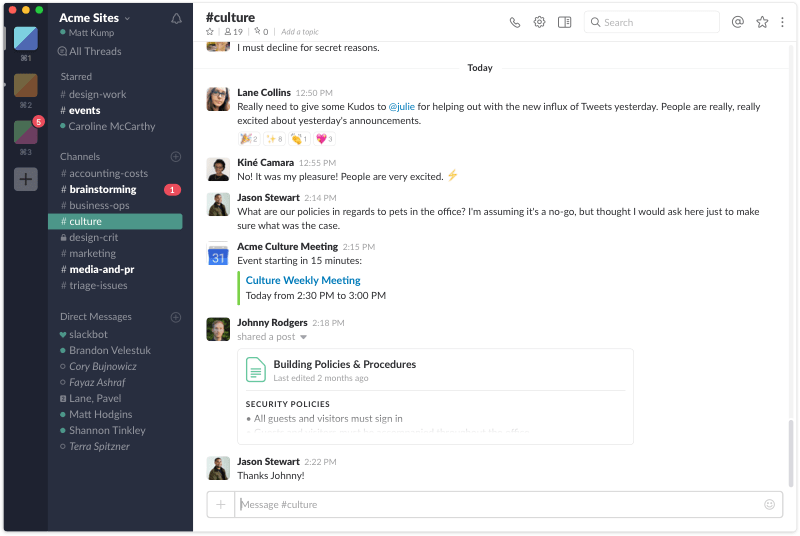 Slack is the flagship tool of the start-up universe and, more recently, of large groups all over the world. This tool offers a shared workspace. All the conversations are organized by topic ("channels") and easily accessible thanks to a powerful search engine.
Slack is often seen as a central tool for project management and more broadly, team management. It allows you to create public, private chats and even make voice and video calls. It also connects with several hundred applications to centralize all information and more easily manage alerts and notifications.
Prices : Free up to 1000 users (5 GB, 10 accessible messages). Subscription from 000 euros for more spaces and users.
Alternatives?
Microsoft Team
(Accessible only to (paid) Office365 Business and Office365 Business subscribers, it perfectly integrates Microsoft products like Excel or Word) and
Discord
(Graphically very similar to Slack, Discord is positioned more in the field of voice and video communications. Free)
TRELLO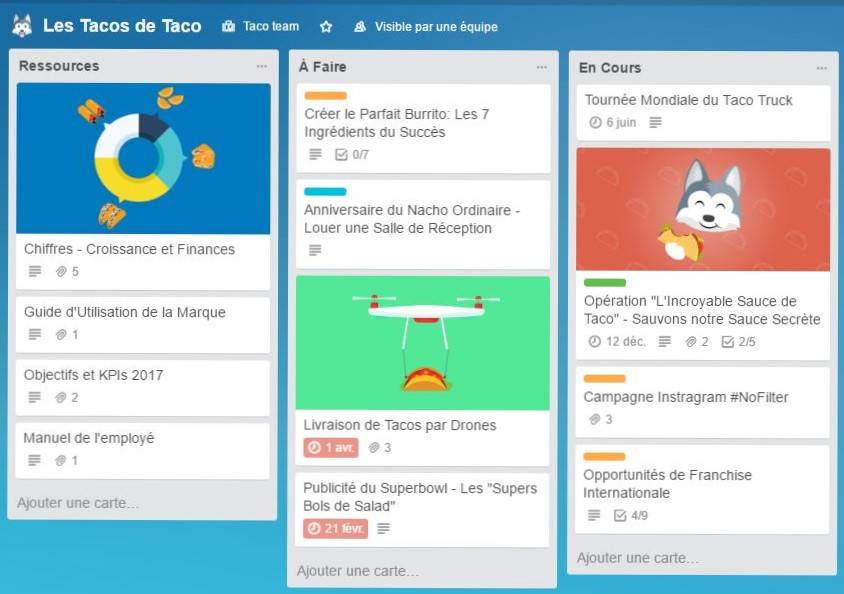 Created in 2010, Trello makes it easy to manage projects in the form of customizable "columns", resembling a post-it board. The tool's strength is undoubtedly its ease of use, which can be summed up in the "dragging and dropping" of elements. Offering many team management options, Trello allows you to organize your work according to the method of your choice. Fan of the "Kanban" mode (To do / In progress / Done) or of a calendar vision: it's up to you to decide!
For more information:
https://trello.com
- available in web version and in application on Windows, Mac and iOS
Prices : Free. Paid version from 9,99 euros per user and per month have a general team vision and more security options.
>
Alternatives?
Microsoft Todo
(Task management tool integrated into the Office365 suite, accessible via the web and on a smartphone and PC application. Free),
T
(Collaborative task management application, accessible on iOS, Android, Mac and PC. Free up to 80 lists).
EVERNOTE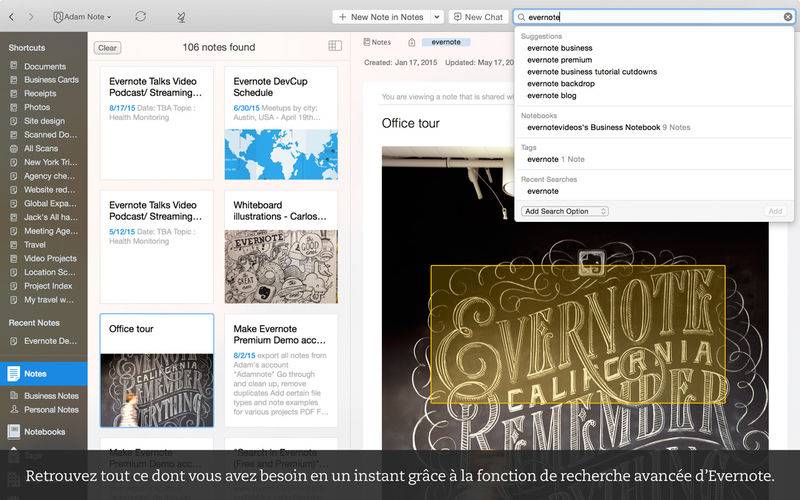 Evernote is a real digital notebook that you can sync across all of your screens. You can save notes (typed or handwritten), save articles with 1 click and add links, to-do lists, tables, attachments or audio recordings. Each note can be recorded in a thematic notebook, identified with keywords and shared with the people of your choice.
Prices : Free to create synced notes on 2 devices. Subscription from 29,99 euros / year to synchronize all devices and have access to offline notebooks.
Alternatives? Office OneNote (Free and intuitive, OneNote allows you to easily share your notes thanks to an impeccable integration into the Office365 suite), Google Keep (closer to a digital post-it tool than a real notebook, Keep offers a display original information and integration into Google Docs. Free)
TOGGL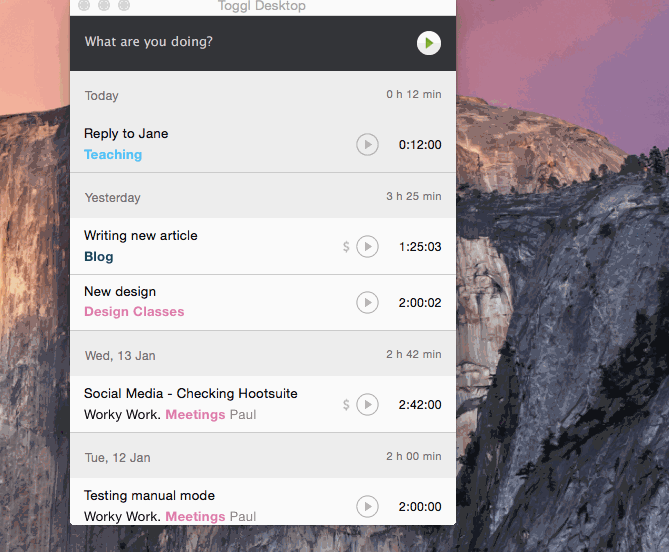 Need to identify your most time-consuming tasks or to know the time spent on each of your projects? Toggl is a "timer" which allows you to record, by "theme" (project, sub-project, client, etc.), the time spent on different missions. Connected to other project management applications such as Trello, Todoist, Google Drive or Gmail, Toggl allows you to manage teams and obtain in-depth statistics of your activity.
For more information:
www.toggl.com
- available on Mac, iOS, Android, Windows and as a Chrome extension
Prices : Free . Subscription starting at $ 49 / month to have access to reporting and team management features.
Alternatives?
WudaTime
(Similar to Toggl, Wudatime is completely free but does not yet offer a Chrome extension),
RescueTime
(Application that records your time spent on different tools and websites).
ZAPIER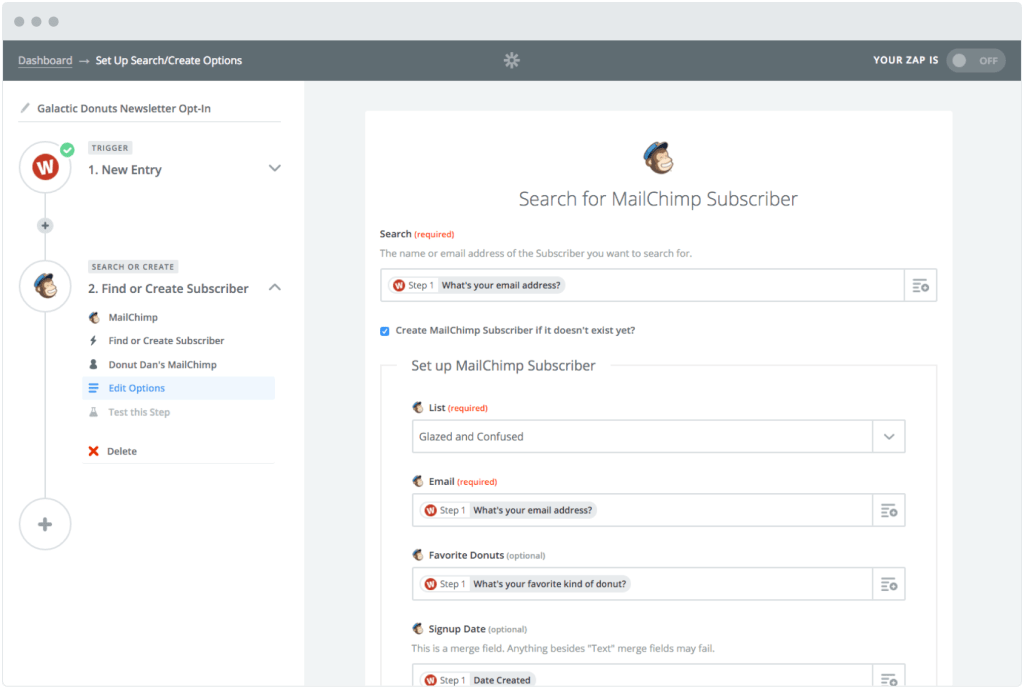 Zapier is (more) than a project management tool. This web service makes it easy to automate actions between more than 700 everyday tools. Want to automatically save your coworker's attachments to Dropbox? Add your new Twitter followers to a specific list or thank those who share your content? Nothing could be simpler with Zapier. You create your own automations (called "zaps") in a few "drag & drop": they will change your life!
For more information:
zapier.com
- available on the web
Alternatives?
ITTT
(available on the web and via the iOs and Android application, IFTT offers less customization. 500 automations are still available for free!)
BONUS: STATION
Between these project management tools and
the now classic Canva, Calendly, Appear.in,
… Is your computer grimacing? Station is THE solution. The application allows you to manage more than 100 tools within a single interface. WE love !
Price: Free!
Alternatives? No such comprehensive solution.