Self-taught digital enthusiast, Frédéric Fougerat is Director of Communication and Marketing for the Foncia Group. This manager at the heart of the company, title of one of his books, reveals to us his vision of communication.
For starters, a classic! What is your definition of corporate / institutional communication?
In my opinion, corporate communication includes all non-commercial communication. It aims to promote the image and reputation of a company and can therefore have an impact on its business even if this is not its primary vocation.
Corporate communication thus encompasses the work of speech and image but also that on the employer brand, reputation and social media, financial communication and CSR (which is moreover not just a communication issue. ).
With 20 followers on the counter, you are one of the most connected Dircom in France! Why and how did you become a amateur social media?
I gradually switched to Twitter, to share what I was already saying on DirComLeBlog. For me, the value of a Twitter account is not measured by the number of tweets or the number of subscribers but by the readability of the editorial line, the quality and relevance of the content and the commitment of the community.
That's why, on Twitter, I only talk about communication. I am not talking about political subjects. And because it would be too easy to make the amalgamation between the company that I represent and myself, I do not share personal positions.
Doing self-promotion or exclusively relaying news from your sector do not seem to me to be relevant angles for developing your presence on social media. Or else, it's an editorial choice, which is not mine.
Do your good practices shine within your teams and on your communication projects?
At Altran (#MasterYourRepuration) as at Elior Group (#WeAreSocializers), I wanted to set up educational programs to raise awareness and train teams in good practices on social media. Employees have thus become true ambassadors for the company.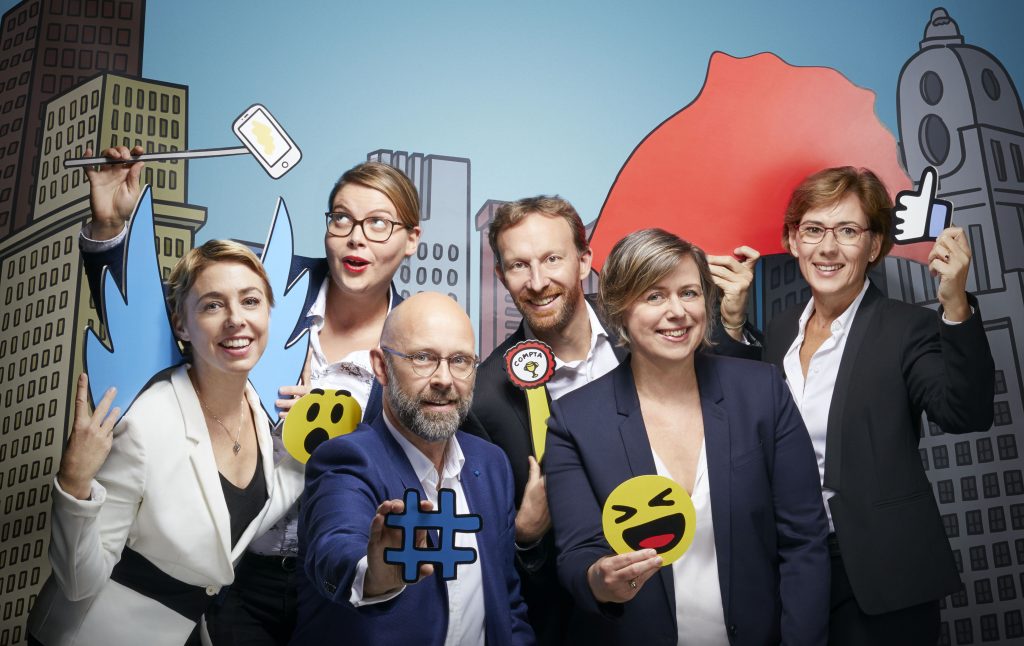 Have you ever seen Frédéric, with his team, in Stratégies?
"For several years, I have taken advantage of a beautiful team photo, published in the specialized press, to thank and promote the creatives with whom we work. This publication is widely shared by employees and partners on social networks: a real lever of pride! "
Beyond these operations, it is my taste for innovation, which I hope to pass on to my teams. Thus, with Elior Group, we were also the first to publish an activity report of a listed company on Instagram. We gave carte blanche to 6 influencers, invited to share their vision of the break around the world. Everyone was able to eat in our stores, discover our sites and our offers, photograph them and share their comments.
Today, brands are challenged on a daily basis, but can they (and do they want to) establish a dialogue with all their stakeholders?
Not everyone sees the issues the same way, but in my experience there is no longer an option. Today no company or brand is immune to a digital, unpredictable lynching which can take on extraordinary proportions. We must prepare for it and this requires full consideration of all stakeholders.
The relationship between time and risk has totally changed. Today, in particular, we must be very attentive to the customers who communicate the most, young people for example, because they are the ones who make the most "noise".
You have managed several communication departments: what are the key points for the success of your actions?
It is essential that all communications "transpire" the consistency between speech and reality within the company. This is why I only agree to lead a communication department if there is only one vision of communication within the company, with all the functions brought together (internal communication, financial , employer brand…).
Moreover, as Dircom I know that I am not always the best spokesperson. Success also depends on the interventions of "expert" spokespersons. In contrast, a good Dircom must be a good spokesperson at all times and at all times. This is part of his job, and is only possible thanks to the connivance and trust he has with his President.
In this sense, the Communication Department must be attached as closely as possible to the General Directorate. But it can sometimes prove to be complicated when some bosses do not understand the challenges of communication. They then make Communication a department at the service of their own image, their notoriety or a public relations service for the organization of small occasional festivities.
What are the qualities of a good Communication Director according to you?
He must be curious and open, prefer to listen rather than to speak, to like others to be interested in them. He must also be empathetic in order to lead and unite teams and not lack political sense. In this sense, he must understand the tactics, the impact of what he or his company will say, do or show: it is an essential quality.
A Dircom today must also be connected, with proven social value: without it, it is (already) Has Been !
Any advice for students and future managers in communication?
They must not be mistaken in the communication professions. We must forget the caricature of glitter and champagne. Communication is a real job, it is not a hobby. These are DES trades, which require expertise.
It is a rigorous and hard-working profession, of availability towards others, where you do not count your evenings and weekends, an artistic profession, which allows you to express yourself but which also requires technical and legal knowledge and which requires compliance with rules and processes.
In short, it is a profession of commitment and we must not be mistaken about the reasons which push us towards this discipline in movement!
3 things to know about Frédéric
- His sources of inspiration: people, in the street, the metro, at work… He has a taste for observation!
- His favorite campaigns in 2017:
Frédéric is not a real football fan (yes, if we assure you!)
- He has grouped all of his forums in a book: A manager at the heart of the company.