March 25, 2018
COM'1 Monday is a summary of last week's COM news, to share in a team meeting 👱🏻‍♀️🧔🏾 or around a coffee ☕
#COMDECRISE (WEEK 2)
Facebook does its mea-culpa
Alors que le Cambridge Analytica scandal is still at the heart of the news, the 1st global social network has published a full page of apology in the English and American press. Mark Zuckerberg recognizes the responsibility of the company in the protection of the data of its users, and therefore, in the misleading use which has been made by Cambridge Analytica.
At the same time, several measures have been taken to regulate "the data" but which does not seem to contain the anger of certain users. Thus, the hashtag #DeleteFacebook already includes several thousand messages from disgruntled people. And a significant fact, Elon Musk, emblematic leader of Tesla and SpaceX, deleted the pages of his companies on Facebook. What to snowball?
#SHOPPING
Instagram: the "e-commerce" format arrives in France
In testing for many months across the Atlantic, Instagram's "shopping" feature is coming to France. Brands can now tag up to 5 products on each of their posts. On the user side, the products are clearly identified, with their price and above all, now accessible in a single click on the brand's store.
The only constraint to use this format (which remains free but can be freely sponsored): having a product catalog via Facebook Shop or Shopify.
#SHOPPING BIS
Pinterest: the (new) interactive catalog
Often presented as the social media with the best ROI, Pinterest is also deploying a new e-commerce feature. With "Shopping Ad", brands can now recreate their catalog by using pins presenting their product from different angles, and above all, by making the products presented clickable (like Instagram!).
A development supported by a recent study published by the social network which highlights the role of Pinterest in the purchasing decision.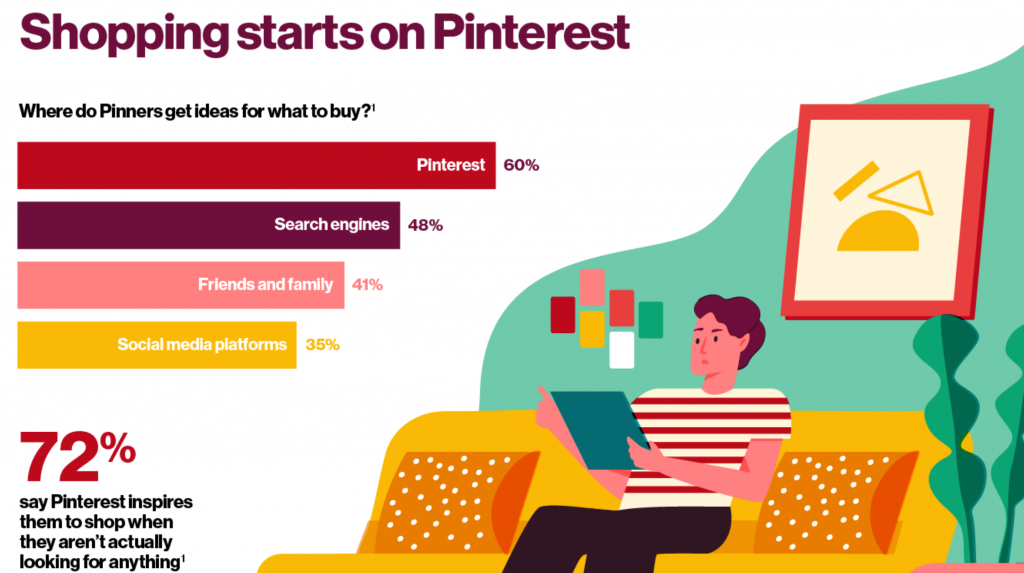 #SHOPPING TER
Snapchat reveals the data of (potential) consumers
It's not a new shopping feature, but it shows the common interest of Snapchat and brands in this area. Evan Spiegel's social network is currently deploying "Snap to Store", or access to Snapchat user data around points of sale. Brands, active or not on the advertising part, can now have details on these potential customers, in terms of demographics and interests. A way to demonstrate, in figures, the adequacy between advertisers and the public present on Snapchat.