20th May 2018
COM'1 Monday is a summary of last week's COM news, to share in a team meeting 👱🏻‍♀️🧔🏾 or around a coffee ☕
# JOB-A
Facebook launches its platform dedicated to employment
We've been talking about it for years, and we've already been doing it. Find a job on Facebook. Until now, users of the 1st social media in the world had to resort to word of mouth, via knowledge posts or dedicated groups. Is that time over? Facebook has just launched its "Job offers" service on mobile and desktop.
Based on the functioning of the Marketplace, this space dedicated to employment makes it possible to post free offers on behalf of a company page. It is then possible to specify the classic elements of an offer (position, place, salary, description) as well as up to 3 specific questions (open, closed or multiple choice).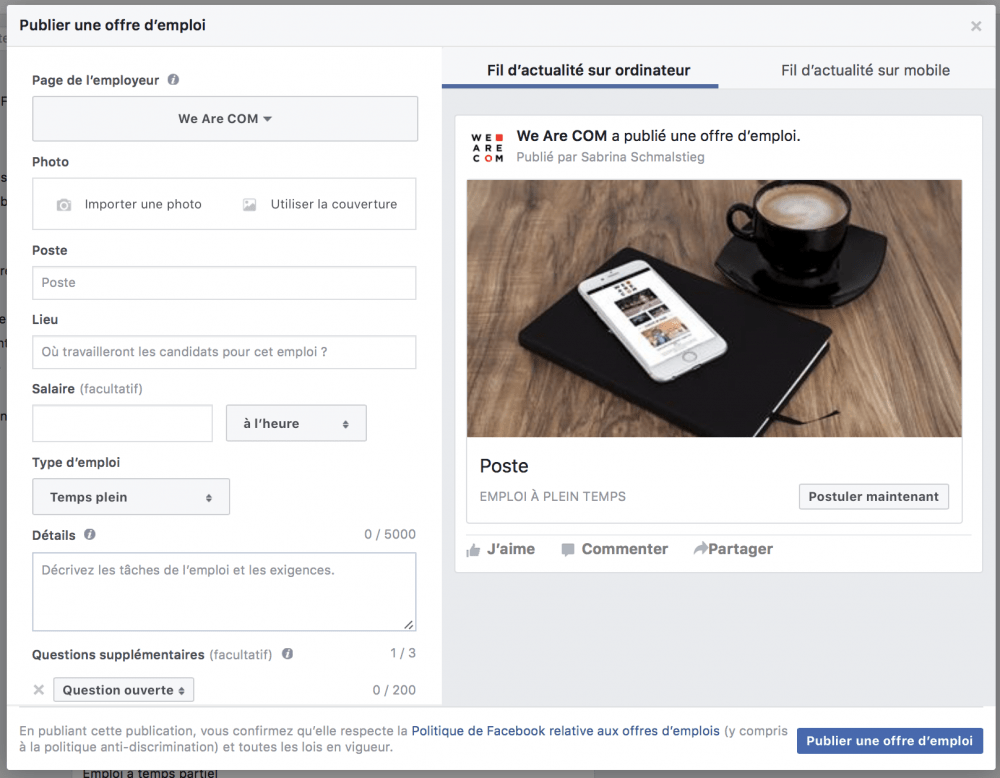 Once posted, you can share the ad in groups, with friends or on the business pages you manage, thus creating a dedicated "job offers" tab. Finally, it is of course possible to sponsor the post to a chosen audience 🎯.
# JOB-TWO
Kudoz becomes "LeBonCoin Emploi Cadres"
Kudoz, "recruitment Tinder" where you can (could!) apply in a swipe for offers corresponding to your profile, joined the Leboncoin Group last September. A rapprochement that makes sense when you know that the ad site between individuals already collects more than 900 job offers / year.
And if the merger between Kudoz and Le Bon Coin has already enabled the ad site to integrate "HR" functionalities, it is now taking shape with the launch of " leboncoin Emploi Cadres" (instead of Kudoz). On the program, a new application, a dedicated website and always an intelligent algorithm allowing to "match" a CV with offers, then to apply in one click. The publication of offers remains paying for advertisers. But with more attractive rates than its competitors and a base of millions of users, will Le Bon Coin be able to shake up the highly prized executive employment market?
Psst .. in the meantime, you can post your offers to the communicators free of charge on We Are COM, "JOB" section 🔥!
#INRATABLE
Snapchat unveils 'non-skippable' ad format
"Horror, misfortune" say the followers of Snapchat. While Evan Spiegel's social media is still plagued by a crisis of confidence on the part of its users, the imminent arrival of "mandatory" ads is announced. Those that can no longer be skipped, by clicking on the right of the screen. Aware of the criticisms that could quickly scratch it, Snapchat only deploys this product on its Discover part, the least used of the application.
On the advertiser side, the format was long overdue because it has proven itself on Youtube. And this is a strong signal that the Snapchat teams hope to send to advertisers, while only 400 brands would be present on the Discover tab, in video advertising. What can boost advertising revenue and meet strong market expectations?