4th June 2018
COM'1 Monday is a summary of last week's COM news, to share in a team meeting 👱🏻‍♀️🧔🏾 or around a coffee ☕
#CRISEDADO
Facebook popularity drops sharply among American teens
Pew Research Center unveiled last week the update of its study on the use of social media by American adolescents (13 - 17 years old). When we know that 95% of them own a smartphone, they are a key population to detect usage trends for the years to come.
Big lesson from this study: teens are clearly "multi-platform":
- Facebook is no longer far ahead of its competitors (in 2015, they were 71% to say they are regular users of the social network; they are only 51% in 2018).
- Several platforms now share the favors of the youngest: YouTube, Instagram and Snapchat are the applications they use the most.
- Twitter, Tumblr and Reddit are not the most used social media but are among popular sites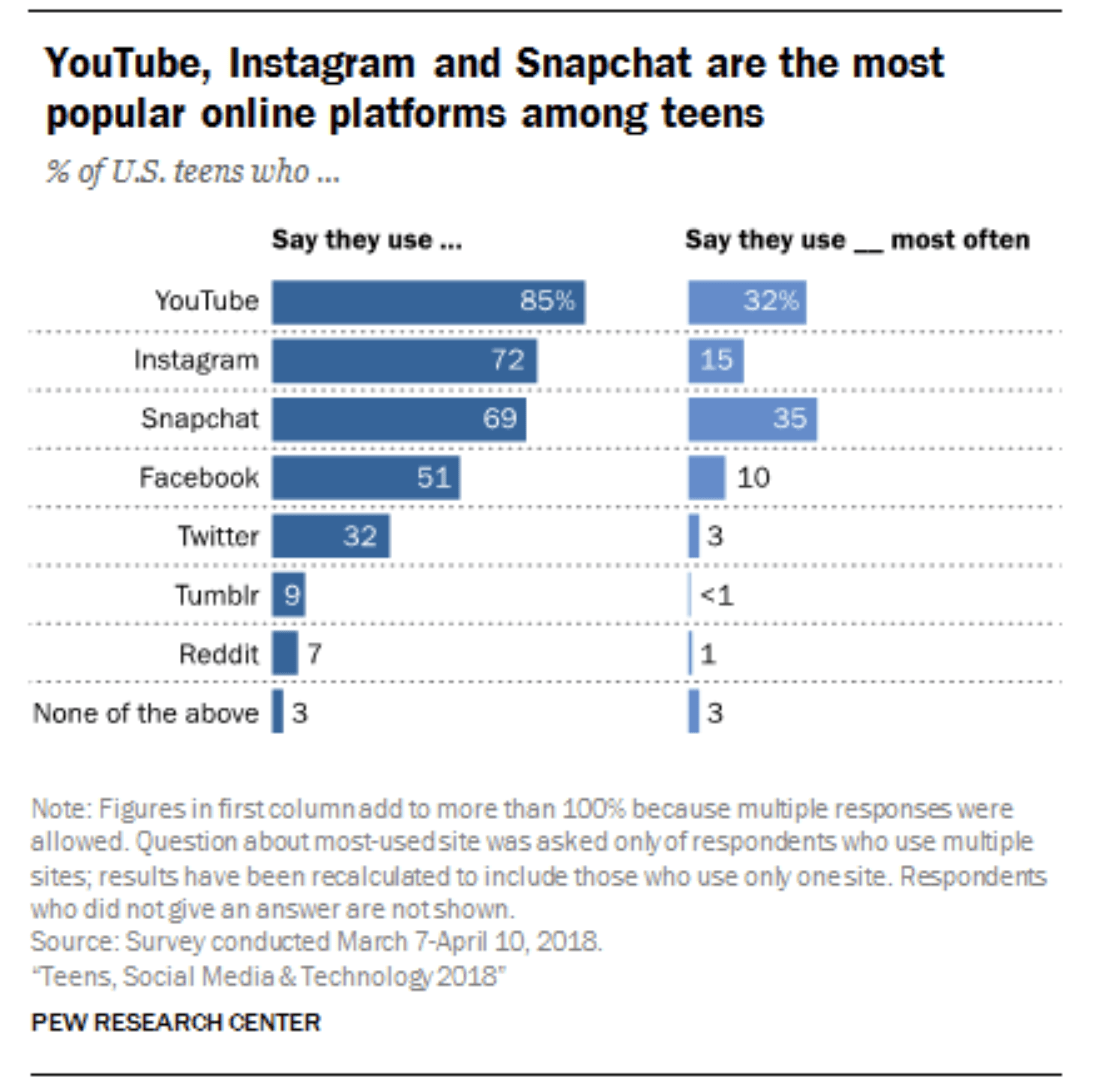 #TRAFFIC
Facebook overtaken by Reddit in the United States
It was in this climate that another (bad) news fell for Facebook. Mark Zuckerberg's network is no longer part of the trio of the most visited sites in the United States. It is Reddit who, according to Alexa (ranking based on traffic), joined Google and YouTube on the podium.
Less known to the general public in France, Reddit (for "read it") was founded in 2005 by two American roommates. Often presented as "the largest forum in the world", its principle is simple: each user can post their content (photo, video, text, question, etc.) which can then be acclaimed ("upvoted") or not ("downvoted"). ") by others. Reddit's most famous page is its home page, where the most popular posts appear: the finest news and pop culture, in real time!
#TRANSFORMATION
Youtube: are you the 1st? Convert now!
We saw it in the Pew Research Center study and in the Alexa ranking: Youtube is a global traffic giant. More than 1,8 billion people watch videos there every month (including 44 million in France). The brands have seen this and are multiplying the campaigns on the platform. In order to "help" them evaluate their investments and launch more "ROI" campaigns than brand image campaigns, Youtube is launching new advertising products under the name "Direct Response":
– "Custom Intent": to target YouTube users based on their Google searches in the last 7 days.
– "Trueview for action": to encourage the user to take action (I buy, I want to know more, etc.) when broadcasting a "skippable" video with the addition of a banner, under the advertising video
#TRAVEL TRAVEL
Airbnb offers its own "stories"
After Snapchat, Instagram, WhatsApp, Facebook… It's Airbnb's turn to offer its users the opportunity to share their content in "Stories" format. This feature, currently in beta, allows users to post videos of their travels to Airbnb without going through other apps. An effective way to complete its content creation strategy and become a platform for exchanges around travel, going beyond rental services.