At a time when messages are multiplying on broadcast channels, in our productions are increasingly faced with competition. As a content creator, what is our goal? We all seek to be seen, read and to produce content that is perceived as different. But isn't the ideal to create content that is both appreciated and shared? In business, the principle remains the same! As an internal communicator, we are THE main source of content. And the messages we produce can be direct, rigid or even boring (let's face it) and therefore rejected! Other times, they may seem funny, innovative but still unconvincing and therefore uninviting. So how do we optimize our internal communication ?
The difficulty of producing THE perfect content internally
If you have worked in internal communication in a large company, then you know how complicated it can be to create content that is always attractive, substantively interesting and engaging over time. Especially since production methods, broadcast and information consumption, newly introduced by Facebook, Instagram and others Social networks have changed the game. Internal communication is now, more than ever, forced to adapt, faced with the obvious: an employee has a life outside the corporate world. He is also an Internet user, a reader who informs himself, selects his content, follows trends ... So what is the method to adopt to encourage our employees not only to "consume our information", but to ask for more? (Yes, yes, it is quite possible!)
Call on internal ambassadors as influencers
Attractive, isn't it? The use of internal ambassadors is now widespread in more and more companies. These employees are first identified according to their is the international treasure internal or according to professional competence in a specific area. They are then invited to relay messages, ideas, values ​​... It's like your team instantly gets bigger! But in this case, does it not become a mission or even a responsibility for them? Is the voice of ambassadors free or supervised? Will their speech be coherent, transparent? Finally, do we have the guarantee that these "missions" are a success in the long term?
Let us avoid the risk of a counterproductive action!
This is not new, but let's remember: the internal communication is primarily intended for employees. It must therefore represent them, resemble them ... and above all bring them together. Why limit yourself to teninfluencers when hundreds can reveal themselves as spokespersons? Turning to collaborators endowed with talents of reporter, director, screenwriter or actor is a strategic way to amplify the reach of its communication (in addition to the budgetary aspect!). So prepare your checklist :
Involve employees very early in your process.
Listen to them, consult their opinion, their ideas (they may surprise you!), explain to them the role they play, the steps ...
And finally encourage them and support them!
Once your content is produced and published, the attention of your audience will be reinforced! And your improved KPIs. Indeed, who wouldn't be curious about what their colleague did or said? On the other hand, your internal contributor will be all the more proud, loyal and committed to you.
In summary…
What if you stop declaring that your business is human while making animated videos, because you read somewhere that it is the trend? Our advice: step aside in favor of your target to better assert your place as an internal communicator.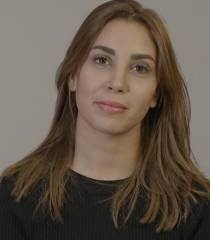 Article written by Marwa Ben El Kilani - Internal Communication & Employer Brand Manager - Orange Tunisia @Marwabek_tn