Do you think that my post needs to be liked and relayed in a worldwide environment or that it should be nailed to the pillory of bad buzz at the mercy of haters? We brainstorm together, so don't hesitate to give me your feedback on the T0P 10 of French expressions. 🇫🇷 🇬🇧
As we know, marketing and communication are not popular with the public. Sometimes considered useless, sometimes perceived as misleading for consumers, our professions have a hard time winning the hearts of the crowds. Rather, the opposite phenomenon is observed. A survey, led by the Repères agency, has developed a scoring grid associated with a semantic analysis of the perception of the marketing function. The words that come up most frequently to evoke marketing are "useless", "windy" or "manipulation".
We can therefore wonder about the reasons for this lack of love. Of course, there are many explanations that lead to this finding. Corn there is a common characteristic of the "marketer": Franglais.
It might sound like overkill - and maybe there is no need to be concerned - but, frankly, have you ever walked out of a meeting thinking to yourself that it was language is inaudible to the uninitiated ? Even if Fr English has gradually become widespread at all levels of the company, it nonetheless remains the prerogative of the marketer who is the first function to have taken hold of it and to push its use to its climax. But what is the link with the rejection we know about communicators?
The mixing of foreign words in a French-speaking professional (and also personal) context can have the unintended, and sometimes intentional, consequence of making it inaccessible to understand information.
Three reasons could motivate this behavior:
1. Affirm your membership
The first reason, and probably the most widespread, would be to follow the movement and assert your membership in a professional community. or to a corporate culture so as not to be excluded from it. Fr English then becomes a tool for belonging to a community.
2. Don't lose face
The second reason, less admirable but that we have all tried (yes, yes, I assure you), is to hide some professional shortcomings. We can call it drowning fish: making a statement incomprehensible can hide a poor mastery of its subject and a desire not to lose face.
3. Putting down his interlocutor
And the last reason, and the least glorious, would be to put some distance: to seek to assert your difference or to seek to assert a superiority vis-à-vis your interlocutor.
All of these reasons tend to make marketing and communications unpopular. Because by making a message incomprehensible, we automatically exclude the attention paid to the other. We therefore find ourselves in a rupture of the exchange and the dialogue. However, and this is the last straw, this is the primary vocation of our professions: to transmit a message. Which can be seen as contempt.
Remember the sketch of the Unknowns " Advertisers »Of 1990 (and yes I am from Generation Y!), We find all the ingredients of what is criticized for communicators. Most disturbing is that this sketch is still very current even though it was written 30 years ago. In a more recent version, the YouTuber the Forced laugh mocks the role of marketing by emphasizing its uselessness.
However, this discipline has never been more technical than today. Marketing tactics have been extremely enriched with the digital explosion, a large part of which comes from across the Atlantic, which also explains the continued use of English. Nevertheless, all the anglicisms of marketing, I should even say of marketing, have a faithful equivalent in French. Why not use them?
So I offer you a TOP 10 French expressions of course in a meeting or during discussions with colleagues, with a suggested French translation.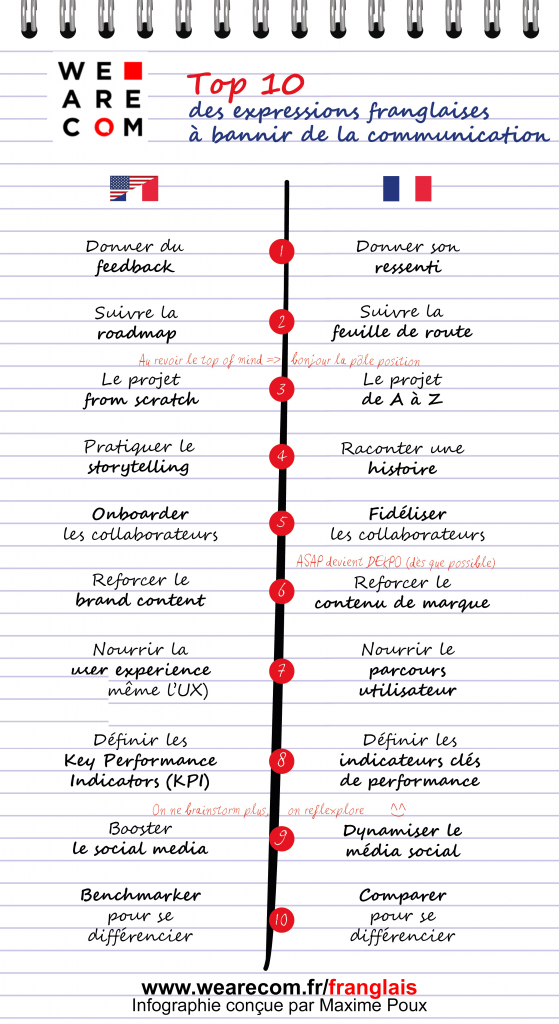 Do not hesitate to react and complete this TOP 10 or to share your best translations!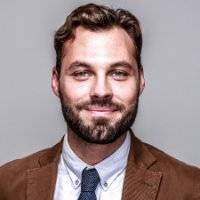 Maxime Poux, communications director of the Ginger group