What is the place of managerial communication in teleworking? Long-term confinement requires remote management, which should allow the company to adapt to the crisis without betraying its raison d'être. So organize aperitifs on Teams or yoga sessions on Zoom if you wish, but above all especially dear communicators continue to mobilize managers so that they continue to share the meaning of action with each of the teams. Here I give you some advice for a good adaptation beyond the usual clichés on teleworking.
---
📌 Tip # 1: a shared, concrete and operational purpose
Before the storm and because of the PACTE law, the leaders of the company took the time to collectively align themselves around a common and timeless course: la purpose of the company. If the reflection has been carried out at a strategic and societal level, this tool will withstand the crisis of Covid-19 and helps to recall the meaning of the company's action; even in degraded mode. This raison d'être - which you have collectively defined - is not a "base line", it is a common energy which is concretely reflected in management; yesterday, today and tomorrow. This compass guides decision-making, modes of cooperation and relationships with all of the company's stakeholders, including customers.
📌Tip # 2: Leadership is the Art of the Frame
The leader - or the leader - must embody a benevolent and demanding leadership; open but directive. Riders would say "ride short queens". Every morning a ritual: the captain goes up on deck and gets personally involved in a collaborative videoconference with all the employees. Not so easy to accept this difficult exercise! During these morning meetings, the collective begins its day and federates. The leader does not hesitate to share his doubts and his vulnerability: this further strengthens cohesion.
During his first videoconference, the CEO sets a very precise framework. What are the non-negotiable limits? Negotiable? What do I expect from you? What can you expect from me? This framework, coherent with the raison d'être of the company, is the structure which gives the essential security to the group in these moments.
For his part, each manager coordinates his team during meetings at the end of the day. These two systems complement and reinforce each other.
📌 Tip # 3: There is no courage without confidence
In times of crisis, you will have difficult decisions to make, say and / or hear. Sharing them requires a good dose of managerial courage. To make these moments simpler, it is better to have built a relationship of trust with each individual on your team.
📌 Tip # 4: a regulation and listening system
The crisis is a rupture, a shift towards new modalities without completely erasing the previous ones. To allow this adaptation, all managers must take the time to conduct a short 30-minute interview with their n-1 to update their mode of cooperation in this new context. Each interview is subject to a short written formalization. Thereby, all employees co-construct the post-crisis management method and give meaning to their own confined professional activity.
Let us not forget that this stage can be very heavy for the manager - himself having to adapt and participate in the adaptation of others. Your managers should be supported by an ad hoc system: setting up a Human Resources representative or a coaching hotline,
📌 Tip # 5: a new closeness to your customers
The DNA of any business is to be of service to its customers. Let's go to them to recharge our batteries for a courtesy call, for example. With confinement, listening changes. The customer relationship becomes even more personal. Employees learn from their clients' adaptation. All of them are planning for future cooperation. They build new, unprecedented bonds of trust, despite the distance. The raison d'être of the company is strengthened.
---
You understand : the role of leaders is even more important than in normal times. The crisis will be long and leaders - leaders and managers alike - must learn to economize in order to keep their capacity intact. Their energy is essential for the proper adaptation of the organization, while their vision is essential for the proper preparation of the recovery. Then, after confinement will come new questions: what are we keeping? What are we changing? How do we operate now? What can we do differently?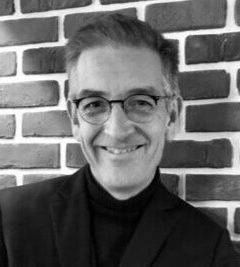 Jérôme Dutrieux, business coach and President of JD Executive. Jérôme is a friend of the We Are COM team 🙂