Pandemic, health crisis, confinement… 😷 Nothing more was needed to change the working practices of the French. The use of videoconferences, or even "webinars", to understand online seminars, has exploded!
It is true that at first glance, all this is attractive: trips are reduced, appointments shorter, you can bring together hundreds of people in a few clicks, share your screen ...
But, there is a but " ! Human contact can be harmed. We sometimes forget the importance of the "non-verbal", the charisma can be crushed and the presence diminished. In the context of the deployment of teleworking, it is essential to optimize these new means of communication, in order to retain the full attention of our listeners and mobilize our targets.
Audio or video?
📞 A well-conducted conference call is most often preferable. Video, in addition to being an imposing format for your Internet bandwidth, has the drawbacks of "wedging" the target behind its screen, and requiring high speed as well as high attention. So why video? It is particularly justified in two specific cases. On the one hand when the goal is to share a visual demonstration: slides, videos, screens… 👀 On the other hand when it aims to create a meeting, assert a presence, then approaching a physical meeting.
🛠 What tools?
Today there are many free tools, often just as reliable as the paid ones! The key is to identify and anticipate our concrete needs, and test several of them in order to assess their respective advantages. Public chat GotoWebinar, the drawing functions are interesting, but the clipping is chaotic. On Skype, the screen is inverted, so be careful if you want to make a video with flipchart support ...
However, the free has its limits: duration of the videoconference, reduced functionality or maximum number of participants.
Our advice according to your uses
We must keep our goal in mind, and get straight to the point as soon as possible (15-30min). We hit the target, we maintain attention and we land the deal with a well thought out "call to action". ⏰
When addressing less than 15 people, the challenge is to create interaction, ⚡️ for example with tools such as Klaxoon. We work on the supports: videos, various interventions, quiz, chat… The meeting must be punctuated and not exceed 1 hour 30 minutes.
More than 15 people? It's a webinar! The challenge is to maintain the interest of spectators and maintain their connection, which involves significant upstream work. It is essential to deliver high added value with constant dynamism. 💪
Our tips for better mastering interactivity: only open the chat at specific times (after analyzing a case or at the end of a speech), just like during a real conference. This will save you attention spans and parallel conversations like " at home I no longer have sound "Then" it's good my connection is stable again!". Also pay attention to the management of microphones, and therefore to the functionalities of your video tool.
Here the issue of co-animation arises. Precision must be the key word in this kind of practice. 📺 As in a television show, everything must be predefined and timed in a sequence shared with the speakers! This requires a solid preparation and a good spinning, in order to smooth the passages between speeches and diffusion of visuals. Finally, to avoid downtime, don't forget to switch very quickly between each step.
We start in style 👊
💉 Start with a booster shot one week, one day and one hour before the start of the event. 5 minutes before the live, check your links and check your messaging (mail or phone) to make sure that you will not lose potential "targets" due to a technical problem.
Ask spectators to identify themselves, mute their microphone and activate their camera (to avoid black screens). Tip: then take a capture of the entire participants, you can then use it as a visual communication to then enhance your event.
For the more punctual, it is important to open the video in advance (about ten minutes) and to welcome them. If you occasionally need to leave the field of the camera, remember to disconnect it. To keep participants waiting until the signal start, play waiting slides accompanied by soft music. 🎵🎵
Latecomers? You must first set yourself a course of action: precise time, minimum number of participants, presence of major targets, etc.
🎥 The recording must start as soon as the first spectator arrives and end only when the last spectator disconnects, in order to be usable as much as possible.
✅ Vital points!
🎯 Think about your targets : give them confidence by announcing the structure from the start, bring added value, inform and entertain.
⏱ Pay attention to the timing : it is essential to be concise. Targets should not have the feeling or fear of wasting time. Be dynamic and impactful, this will highlight your mastery and your leadership.
???? Flatter your image : the staging should not be left behind. The virtual backgrounds unfortunately often degrade the contours of the speaker. Opt for the natural, without neglecting the light, or even prepare a background with parties or themes, by introducing why not a little humor. This helps maintain more continuous attention in the viewer.
And what dress code? The style must be classic and in keeping with the context of the exchange.
📢 Have a sound presence : the voice must be clear and powerful, so avoid the microphones built into your screen and invest! Remember to keep a water bottle nearby to preserve your vocal cords. And finally make sure the ambient sound is peaceful : warn those around you, put your phone on silent ...
🎬 Save the exchange : whether to watch it in replay or to reuse one contents value, it is important to keep track of it.
🎙 Refine your speech : it must be perfectly run in. It is not recommended to learn by heart or to read your notes, you just have to live your words. Don't think that a glance at the cheat sheets goes unnoticed! I usually recommend preparing an A4 sheet of landscape format, and indicating the major points to deliver, then you just have to improvise around it.
The key ? Hang on and energize
The most important thing is to look at your camera, and especially not your screen! If you have trouble focusing on the goal, materialize it by adding visual cues. A target who does not feel your gaze will not feel concerned. Add a smile and a positive attitude to it all! ✌️
Regarding the issue ofinteractivity, ask questions, tell your stories and anecdotes (storytelling obligatory). For media, choose clean slides, each of them must be understood in a second.
Finally, bet on body language, it contributes 60% to the felt dynamism. 💃 Step away from your screen if necessary, but frame yourself with your hands. As such, a webcam external, generally of better quality, is preferable. By pairing it with your lavalier microphone, for example, you will be free to move around and be able to adapt the framing.
In summary…
Succeeding in a video is above all not giving up! You need to be extra vigilant: watch out for your environment, your physique, your speech and your body language, all while impeccably structuring your audience's interactions.
Do you really want to become a video pro? Practice, check in, watch yourself and… start over! ????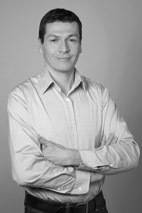 Nathanael Becker,
Founder of the agency Eikos