We Are COM x mini-trade fairs for Communication professions ISCOM, in videoconference, tell you everything about the journey and the daily life of the communicators. Now let's take a look at customer communication professionals in this episode # 2! 🤗
By the way ... what is customer communication?
Customer communication, often called "commercial communication" can also be qualified as " product communication ". It has 4 main missions:
1 - Inform customers of offers, in order to raise their awareness and loyalty to the mark
2 - Attract prospects, i.e. future potential customers
3 - Build a strong brand image (in particular stand out in order to seduce)
4 - Contribute to building a solid and strong global brand image in the medium / long term!
So customer communication is one that creates, embodies, maintains and solidifies the link that exists between a brand and its customers (and future customers of course!) 🚀
Expert opinion 🎙
Two customer communication professionals, Eleanor Dumont côté agency et Romain Hammard côté advertiser, answer our questions.
🤔 Hello to both of you ! What is each of your jobs?
Éléonore Dumont: I am deputy general manager of Retail Media, a motion design agency specializing in the retail world: client experience, design, production and adaptation of content digital. I manage a team which is notably in charge of clients such as L'Oréal, Etam, Fnac, Huawei, Sony, etc. My daily life ? Strategy and agency development, client support, budget and business model management, planning, monitoring and benchmarks.
Romain Hamard: I am responsible for customer communication of the Credit Agricole d'Ile-de-France. A bank that also touches the insurance and real estate sectors, with more than 1,5 million customers in the Ile-de-France region. My daily life ? Conquering prospects and building customer loyalty through communication campaigns personalized, support in their moments of life, strategy ofinfluence on Social networks and management of talented experts in digital communication.
🎓 Why and when did you decide to focus on the Communication sector?
ED : After the BAC, I never really managed to decide between this or that discipline, being interested in many fields. I opted for communication, which I liked because of its very transversal aspect: reflection, strategy, creativity, writing, new technologies, monitoring ... The profession of communicator is very broad and it is also a profession of conviction, which encourages people to defend and confront their ideas. We practice both in-depth work alone and teamwork, which catalyzes all this gray matter. I first did a BTS communication, then a 3nd year in COMAL, atISCOM Rouen, and finally a Masters specializing in creative industries at ESUPCOM.
RH : I wanted to be a journalist, but short immersions in editorial staff quickly brought my illusions to reality: the reporter Tintin does not exist. High school student, I volunteered to organize a big music festival. The opportunity to taste the adrenaline of the event! Then I multiplied the voluntary internships - not compulsory in the course - in the event sector. In terms of graduate studies, my course took place entirely at the Institute of Communication and Media of the New Sorbonne, from the DEUG Cultural Mediation & Communication to the Professional Master 2 Communication of Companies and Institutions (CEI).
📅 What is your typical day like?
ED. : A typical day is first of all to take stock of current projects, deliveries to be made, upcoming briefs and the studio's schedule. In agencies, our job is above all to understand our clients' challenges and to work on their lines of communication to offer creative solutions that are adapted and consistent with the brand universe. In the field of motion design, dissecting briefs upstream is essential to optimize the creative process and aim right at the first draft. Video is much more complex than print! The notion of rhythm is essential. The day is also punctuated by team meetings, brainstorming, points with clients, etc. As Deputy Managing Director, I am also very involved in the strategy of the company and the management of the structure. But above all, I remain a communicator!
RH : I don't have a typical day. As for Eléonore, every day I take stock of the progress of new communication projects and the state of performance of recurring communications. I often schematize the communication activity in three main stages: the detection of intentional customers for a product or a moment of life, the activation of these customers by offering them a solution, and the conversion such as the signing of a online quote. The idea is to look at the KPIs (performance indicator) of these three main stages, and to try to improve them on a daily basis. In addition, the communicator on the Advertiser side is in regular contact with other experts: marketing, legal, data science, compliance, sales, etc. We must always move forward in close coordination with the other teams.
💪 What is the most stimulating part of your communication profession?
ED : I have always been very sensitive to graphic design and I find the creative process particularly exciting. The possibilities are endless and the resulting execution is a real bias. Moreover, working on tenders is always exciting, even if the deadlines are tight and the work is colossal. We are generally very happy to be selected. Finally, the fact of working with clients in different fields allows us to keep up to date and to have a complete view of what is being done in our field. This is one of the advantages in an agency!
RH : Communication is not an abstract activity: it is concrete. In customer communication, you quickly see the effects of an action on prospects and customers: did they open the email? clicked on the CTA ? bought the product? This is very stimulating and rewarding because you feel useful both for your customers by offering the right solutions at the right time to the right people, and also for the company by contributing to its development.
(I.e. What customer communication are you most proud of?
ED : I have been working with the L'Oréal group for several years. We build together the communication strategy for trade shows, at the international level. Innovation is at the heart of the system and it is a long-term project, with a real search for efficiency in the creation process. This gives rise to heated debates with the central entity and the countries.
RH : For my part, I will say the customer communication of the offer Globetrotter of Crédit Agricole d'Ile-de-France between October 2018 and February 2020. This offer is intended for 18 - 30 year olds with a traveler soul. We have managed to give it a real DNA, to be in affinity with its audience, in particular thanks to collaborations with several influencers on YouTube et Instagram. This offer was a commercial success in Île-de-France with the arrival of new customers and also a loyalty of young customers. We understood that the price or the simple description of a product could not arouse the enthusiasm of a consumer. We need a message affinity and the right distribution channels.
💥 What are the major developments in customer communication?
ED : In general, there are more and more KPIs (Key Performance Indicator) and this allows a detailed analysis of the impact of our communications; for example on in-store screens. Studies are multiplying and these projects are carried out jointly with our clients. They as we continue to learn! We also observe that the points of contact are more and more intertwined in a coherent communication strategy: the different channels respond to each other, the content is adapted as recycled. The other big evolution in customer communication is personalization. In the retail world, we tend more and more towards local communication, for example.
RH : Personalization has clearly become a reality. We try to anticipate the needs of our customers as much as possible, by detecting the services they will need in the months to come., thanks in particular to the consultation of "moment of life" content (birth, move, transition to retirement, etc.). Then, via our new tools of diffusion, we personalize each message sent to each customer, either in our own digital ecosystem such as the customer's space in their online banking or application mobile, or those of our partners average. Never has communication been so personalized and so measured.
✅ Do you have any advice for future communicators?
ED : Communication is definitely a profession for those who like to survey our society and wish to continue learning. Curiosity, it takes! I would advise them to take an interest in fields such as economics, new technologies, sociology and not to be afraid of Excel tables. Being a communicator also means spending your time looking for solutions on your own (thank you Google!). At the same time, you have to like questioning. We sometimes deconstruct a lot of our creative proposals, our messages. We adapt to new contexts. It takes patience, humility, empathy. Finally, don't neglect your pen! Editorial is especially important and spelling is not an option.
RH : Do not think that "luck favors the bold", but rather well-prepared professionals. Communication is a job that requires experience and humility. So confront a variety of situations, contexts, subjects and you will gain expertise. Do not wait for the compulsory internships to discover the profession for which you are destined. I invite you to help associations for the organization of their events or the animation of social accounts. Do not hesitate to share one of your passion through a dedicated channel: a blog or an Instagram account for example. Through these first actions, you start to have your first experiences which will then make all the difference ...
Eleonore Dumont,
Deputy Managing Director at Retail Media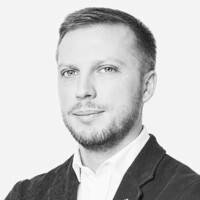 Romain Hamard,
Marketing and Customer Communication Manager Crédit Agricole d'Île-de-France