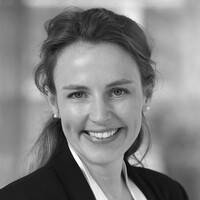 Member of Club We Are COM, Anne-Sophie Sibout is above all Communication Director of PwC for the France and Maghreb zone, one of the global giants of consulting, auditing and legal and tax expertise, part of the very closed circle of the Big Four. 🙌 How to enhance the specificities of such an actor and unite a community various interlocutors? How to reinvent the relationship by external and internal at the time when the digital take precedence over physical encounters? She answers questions from the We Are COM team, takes stock of past challenges and future challenges in PwC communication. 🚀
Article published in March 2021.
???? Hello Anne-Sophie! To begin with, what is your definition of B2B communication?
Having practiced both in the sectors of B2B Zone and B2C, which it might be tempting to contrast caricaturally, I am convinced that they are above all linked to a common issue, the "Human to Human" dimension. In terms of communication, the intrinsic springs of any strategy are based above all on the direct links we create with our stakeholders. PwC does not address the end consumer directly, as our clients are businesses and organizations. However, there are many prescribers: all of our public need to be listened to and understood in the responses we give them. Whatever the sector, I would define communication as a triptych carrying meaning, coherence and emotion. Our role as communicators consists in particular of ensuring that these three boxes are ticked when we address our stakeholders… A real work of conviction!
???? PwC is one of the Big Four, one of the biggest companies especially in the audit sector around the world. How is the communication strategy organized between the global and the local of such an international network?
Indeed, PwC is a very international firm, one of its many attractions: we are more than 284 partners and collaborators in 000 countries! Auditing is indeed our historical activity. However, our strength lies more in our multidisciplinary offer: advice, whether in strategy, organization, cyber-intelligence, risk management, or even at the legal and tax levels ... Our expertise is multiple. Our vocation is to support companies facing the challenges of today and tomorrow. Thus, our know-how is constantly reinventing itself; this requires considerable energy and agility from the communication teams! In general, in a business of dirCOM in perpetual motion, the routine does not exist, it is extremely enriching.
On the global communication side, PwC has the particularity of not having a head office such as one can see in a traditional company: it is a brand under which the member entities of the network operate and provide their services. We are therefore quite autonomous, having the chance to benefit from stimulating exchanges with our peers. Far from a "top down" approach, we therefore enjoy a form of freedom in our communication actions, with great mutual assistance between PwC's territories. The risk, for a powerful name like ours, would be to crush local differences., while the very essence of success remains in highlighting the work and specificities of each person.
Communication is a triptych carrying meaning, coherence and emotion
👊 You talk about a powerful label when you mention PwC. Today, what are your brand challenges?
When I arrived at PwC, I was struck by the number of interesting initiatives that were carried out by the firm, both for our teams, for our clients and for society more generally. However, our communication actions sometimes favored a logic of accumulation rather than impact. A survey of notoriety and image covering both quantitative and qualitative elements (always useful for setting a zero point) confirmed that we were not always sufficiently identified in France. PwC is seen as a signature of quality, speaking mainly to our direct customers. Today, our brand strategy aims to reinforce this perception, but by adding a distinctive identity to it.. The objective is to bring a more emotional, relational and dynamic dimension. In short, a brand rather than a label.

Among other examples, we strengthened our position as an active observer by broadening our usual targets when we launched the program " Rebuild ". The latter aims to collectively imagine a post-crisis world. Rather than addressing only our customers, we interviewed a large panel of stakeholders: managers, but also NGOs, medias, politicians, unions… We also organize debates, "Crossed Visions" open to all, during which themes such as ecology, the future of industry or even technological progress are discussed, with various personalities. Building bridges is at the heart of our brand strategy.
💡 Internal communication intensified in 2020. Can you explain your information strategy to employees?
Undoubtedly, internal communication was central in 2020. In a context of crisis, it is always useful to rethink our fundamentals, and in particular the need to inform. More than ever, the quality and regularity of information on the health situation, or on the activity of the company, were essential. Our strategy therefore responded to two dimensions: informative and interactive.
On the one hand, we have set up virtual meetings almost weekly, making it possible to maintain the link between employees and our managers in this particular context. On the other hand, and it was not the easiest, but it was very enriching, we had to rethink interactivity. For example, in a few weeks we set up a 100% digital event for our 6 employees with 000 speakers from the firm, "PwC Day », around a multitude of modules: webinars, votes, quizzes, various workshops… All while relying almost exclusively on internal resources!
Recently, we also launched the webcast " One hour with ... ". Our President responds to questions from teams in a 100% live format, both via directly connected employees and via chat. We must be more and more flexible and creative, without forgetting the rigor essential to our jobs!
Communication must be a real driving force to encourage
???????? You launched the #LetsgoFrance movement in 2016 to improve France's economic attractiveness internationally. Do you think that every brand should be committed to a cause bigger than itself?
With this program launched in 2016, we wanted to respond positively to the phenomenon of "French bashing", then flourishing at the time ... Through its regional roots, its more than 25 offices, and its multiple clients, with companies of size and sector varied as well as public actors, PwC is a natural promoter of French successes. Three axes have been developed: a platform offering content editorials, the animation of a diverse and engaged community, and the organization of trophies awarded by a leading jury. Shortly, #LetsgoFrance of PwC will take on a whole new dimension. We can't wait to tell you more!
Brands have everything to gain from playing a societal role, from taking action and communicating around actions that go beyond the promotion of their offers. I am convinced that communication is not just about supporting, it must be a real driving force to encourage. We need to alert us to a whole multitude of issues and in a way exercise a " push and pull On these topics. There is still some way to go! Our challenge is to make these societal and environmental commitments more evident and to integrate them at all levels in the company. It is now everyone's business.
(I.e. How do you see the evolution of press relations over the past decade?
Even if it may seem prehistoric to the youngest, I have already witnessed the sending of press releases by fax at the very beginning of my career! The evolution of technological tools, the explosion of social media, citizens' mistrust of information, the rise of user-generated content around a brand (CGU), etc. Multiple phenomena contribute to making media relations incessantly more interesting and enriching. The notion of trust is even more essential in the exchanges between communicators and journalists today, any citizen being able to become a form of "media". ». We see this, for example, with the rise of the "Balance tone…" movement on Instagram: communicators have a necessary educational work within their organizations. It is essential to have a good understanding of the developments specific to each of our businesses in order to understand each other: more than ever, a good Press officer must show curiosity, flexibility and analysis.
✅ More generally, what advice would you give to young communication professionals to meet the challenges of our increasingly demanding jobs?
We have exciting jobs that are reinvented every day and offer us the opportunity to reinvent ourselves. Hang on, it's worth it!
Paradoxically, in communication we can have the impression that it is the expression that predominates, however it is active listening - within our organizations, with other companies, agencies, the world around us - which remains the essential point. As much as possible, real encounters are irreplaceable: do not stay behind your screen! This should be at the top of our to-do-list ».
You also have to believe in yourself, as in others. All too often, we set ourselves limits when taking risks is often rewarding. During my career, I sometimes had to face my own stereotypes and my own fears. By launching myself, and by trusting others, I finally had only good surprises ...
The main objective of the communications director is to reveal the best of each person
(I.e. Besides, what is your greatest pride in your life as a communicator?
Most of the pride is collective! The first was an extraordinary human experience, beyond the project itself. I had the chance to lead the overhaul of the Edenred brand, an adventure that lasted more than a year, during which we worked with communication teams all over the world, in interaction with business teams from 40 countries. . With limited resources, the launch was unforgettable! This memory will remain extraordinary as the cohesion and ownership of the teams was there.
Organize the "PwC Day », which I was talking about earlier, with a tight budget and without an agency, was also a great collective experience, involving the internal communication and events divisions, but also multiple teams. PwC's values ​​have taken on their full meaning here. In this kind of situation, the communication director's primary objective is to reveal the best in everyone.
👀 Between us… What has been your greatest astonishment during these last 12 months?
Without hesitation, the human adaptability. It never ceases to impress me. We all have a "phoenix" side within us and resources that are as unsuspected as they are inexhaustible. Far from a naive vision, it is a conscious choice of perception that can inspire us in our communication strategies.
3 things to know about Anne-Sophie
His mantra : everything happens for a good reason. I believe we all have the power to make a difference, humbly, and that failures can be great opportunities. A form of active acceptance, in a way.
His latest crush : the campaigns of the Intermarché group, which took up the challenge of bringing emotion and fantasy, where we did not expect it (with meaning and consistency!). " Love love " in 2017, " That's wonderful "In 2019, or even the most recent" Until my last breath »At the end of 2020, she loves 😍
His next engagement : skills sponsorship for Article1, an association aimed at mentoring disadvantaged students, thanks to the impetus of PwC 🙏
Join the Club We Are COM 🚀
Le Club We Are COM allows communication professionals to progress together during moments of sharing best practices only between peers, all sectors combined. Objective: an increase in collective skills in particular thanks to a workshop each month on concrete cases, responses to the major challenges of the COM, meetings with renowned experts, etc. Always exchanges in complete transparency and independence based on feedback: 0% self-promotion, 100% conviction.