The team We Are COM combine business with pleasure by talking about strategy and chocolate ... When it is 100% organic, beautiful and funny, we say banco! Ultra-sleek packaging with a lot of arty and frog collaborations from home, the French chocolate stands out… 🐸
🍫 Enough to melt the most greedy among us and arouse the interest of us communicators! Decryption of the success story with Paul-Henri Masson, co-founder of this so Frenchy start-up.
It is not always easy to set up a communication strategy impactful corporate when you are a young start-up! Yet the Chocolat des Français seems to take up the challenge brilliantly. A pitch that takes 140 characters - " Le Chocolat des Français is a young chocolate brand that produces artisanal bars in France, illustrated by artists. »🎨 - and a hyper-assertive brand image, the start-up founded by Mathieu Escande, Paul-Henri Masson and Vincent Muraire, has shown inventiveness to emerge. " Corporate communication, explains Paul-Henri, For us, it means little and therefore a lot of creativity, D-system, DIY, energy… We were also lucky, that's for sure. I think people are pleasantly surprised by our creative approach. Feedback, particularly on Social networks such as Instagram, were immediately very positive. It clearly carried us ».
???????? In an ultra-competitive sector, dominated by Belgian and Swiss chocolate makers, what was the genius idea?
The positioning Made in France, a powerful communication asset, moreover used by "mastodons" of the com 'like Renault and its "French quality", in a completely different sector. " We found it a shame that French chocolate, whose artisans are probably the best in the world, is so poorly represented. ". Above all, there is not a shadow of a secret here surrounding the origin of the manufacture of chocolate bars: made in a workshop located in a village in Île-de-France, the cocoa is quite simply worked there. in a traditional way according to the rules of the French art of chocolate. Because that is also effective communication: an evidence-based strategy which are not far from raising certain issues CSR today (traceability, short circuits, etc.). Le Chocolat des Français is thus committed to the re-establishment and development of cocoa cultivation in France in the overseas departments and territories and strives to integrate cocoa from Guyana, Martinique, Reunion, into its creations, etc.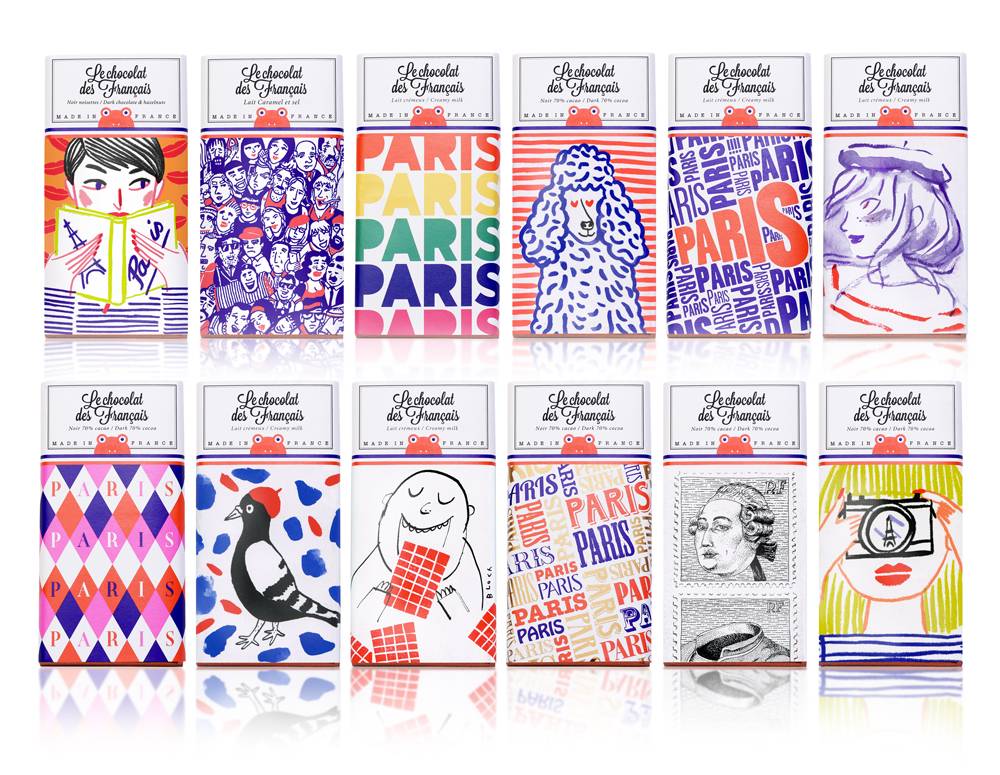 But the only Made in France positioning, embodied by a frog, as a "nod to our dear gastronomy", would it have been a sufficient strategy? 😉
Nothing is less sure ! What has greatly contributed to making visible and therefore to the emergence of French chocolate, are " collaborations with artists who are part of the brand's DNA »: To name a few, Jean André, ZEP, Edith Carron, Marie Assénat (her poodle is one of Paul-Henri's favorite tablets, yes yes) or even Richard Orlinski whose collaboration gave birth to a King Kong monumental over 6 meters for the 2016 chocolate fair! The references are numerous and sharp for ever more pop and colorful cases. Why ? Of course, becausewe taste first with our eyes, but above all because this artistic fiber is dear to the founders: " we went through art schools and it was natural that we wanted to combine these two worlds, chocolate on one side, art and design on the other ". A detail, which far from being anecdotal, helps to develop the storytelling of the brand anchoring the beginnings of Chocolat des Français in the heart of a story of friendship started 10 years ago on the school benches.
✅ What if, in the end, what made the brand's success was quite simply its authenticity?
« We speak frankly and transparently, without calculating or adapting our speech ". We told you: a concentrate of authenticity… sprinkled with a good dose of audacity.
Thanks to Paul-Henri for answering We Are COM's questions! 🙌