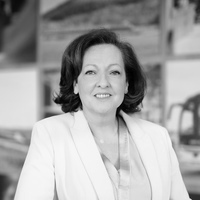 ???? After having managed the communication of major food brands, you have been at the head of communication for the SNCF group for a year. So as a warm-up: what is your definition of local communication?
I would qualify "proximity communication" as pleonasm, proximity being at the center of the profession of communicator. SNCF is a company that is at the heart of French life: TGV, Transilien, stations… Millions of users travel every day and each of them has an opinion on our services. Of course, there are conditions for this proximity. Above all, we need to be transparent. To be credible, the information we share must be genuine, sincere and reliable. It is essential, and all the more so for a public service company, to tackle irritating subjects and to take responsibility for them. No company is perfect, we are no exception to this rule but our goal is to improve every day. Speaking audibly to all citizens in the areas where we are present remains the essential issue for our communication teams. Finally, communication should not only be embodied by the leaders of a company. It is essential to highlight employees and enhance their work. This is a priority for SNCF.
I would qualify "proximity communication" as pleonasm, proximity being at the center of the profession of communicator
😷 2020, an unprecedented year also for the SNCF group! Are not your actions over the past few months a tremendous demonstration of your raison d'être and your know-how in the daily service of the French?
SNCF is a company with a public utility mission, ensuring the transport of users, passengers and goods. More recently we have also had to manage medical transport. I would say that our mission is above all to support the daily life of the French. We had to adapt to a situation beyond compare, with this Covid-19 crisis. The popular belief is that we are a big liner that would have difficulty maneuvering. However, we had and knew how to show a lot of agility and flexibility. This will not cease to amaze me! We have constantly reviewed our transport plans according to confinements and deconfinements, without our full mobilization being affected, especially when going on vacation. I like to think that we have made a good demonstration of our efficiency and our usefulness during this period of instability. The 150 SNCF employees redoubled their efforts to be there. Once again, the railway workers have demonstrated their deep commitment and their sense of the general interest. In my opinion, this is one of our levers of differentiation.
🎙 What internal communication have you put in place to inform and mobilize the 150.000 SNCF railway workers?
En internal communication, the primary objective is to dialogue. Continuously providing information on what is going on makes it possible to mobilize, engage and above all unite. Initially, our priority was to address ourselves to the railway workers, and to reassure them about their safety as well as that of the travelers. The master word ? Transparency ! A permanent dialogue has thus been put in place between directors, managers and employees. Internal communication is above all synonymous with sharing within a company. With the "All mobilized" campaign, we encouraged railway workers to express themselves about their daily lives in order to share their experiences with the entire SNCF house. Subsequently, we also disseminated these content on Social networks, therefore externally.
When the crisis was at its height, we took the initiative to produce an "Unprecedented" logbook: an unprecedented operation that will allow us to never forget. The author, Emery Dolige, toured France to collect testimonies from railway workers. This total immersion has resulted in a book that pays homage, as it should, to all the talents of the SNCF.
The master word ? Transparency !
???? On the external communication side, how can you be audible in such dense media noise? How have you been able to reassure the general public?
Indeed, in external communication just like internally, our priority was to reassure. I would also say that the border between internal and external tends to disappear in favor of global communication. And this is all the more true for a company with more than 150 employees.
Regarding the crisis, we have combined internal and external communication. The contents of one enriched the other and vice versa. It was important to us to guarantee health safety, both for employees and travelers. Let us take as an example the user campaign aimed at raising awareness of barrier gestures "By train, all responsible", which was finally renewed internally under the name "At work, all responsible".
It was essential to highlight the work of the teams on train and station health safety (disinfection, ventilation, minimization of human flows, etc.), to make their mobilization and collective effort visible. Good communication is above all the communication of evidence.
🙏 How do you manage, within the communications and brand management, to coordinate the internal and external teams? How do you play on this transversality?
The idea to always keep in mind is that we are stronger together. By joining this big house that is the SNCF, I wanted to put in place a common roadmap for all of the company's departments. A communication strategy can only be built on condition of uniting in order to progress collectively. The transversality brings an unparalleled dynamic, it is more impactful and more motivating.
💻 The SNCF group shared its "Tous SNCF" corporate project, through an internal video conference event. What is the role of communicators, the definition of the strategy and then its deployment?
"Tous SNCF" was launched by Jean Pierre Farandou, as soon as he took up his post as Chairman of SNCF, to support his ambition to raise the company to the rank of the leading sustainable transporter. He immediately appointed a dedicated team, led by Mikael Lemarchand, Director of Societal Commitment and Ecological Transition, to lead the project internally, without an external consultant, in a co-construction process with all SA, BU and Group establishments, by hiring as many managers and staff as possible. 'agents. The role of the communication and brand management was to support all stages of this unifying project and ensure its deployment in internal communication. The health crisis did not stop us because we wanted to emerge even stronger and united from this ordeal.
Despite the Covid, we managed to share this project during a launch in July 2020, where we broadcast a webcast in front of more than 3.000 managers. We then brought the business project to life, through an internally deployed method accompanied by messages and videos. The second webcast broadcast in September 2020 revealed the progress of our work, as well as the three values ​​of our company: commitment, efficiency and openness. All embodied by portraits of railway workers. In January 2021, it was the kick-off: we took action with a third webcast targeting more than 10.000 managers. The content, including field experiences, was disseminated internally and relayed on social networks, in order to increase the exposure of this new dynamic.
🚂 How to project an asset as patrimonial as that of the SNCF in a new modernity? What is the future for your product brands such as inOui, Ouigo and Oui.sncf?
It is vital to seek and find meaning, both in your life and in your work. We carry a strong identity. Indeed, our intangible asset is very precious and we take care of it. As a public utility but whose market is opening up to competition, we have a real role to play in the daily life of the French. Between love and mistrust, we arouse strong emotions. We maintain two essential commitments, both on mobility and on responsibility. Mobility is the promise made to all citizens and applicable throughout the territory. As for responsibility, it is important to us to support the ecological transition, and we make this known through our speeches.
At SNCF, we are proud to be a strong economic player: social ties, employment, real estate, regional irrigation, etc. The various anonymous companies and product brands are ultimately proof of our various commitments. I hope, and I think, that one day the railway workers will be even more proud to belong to this beautiful company so emblematic and that the SNCF will be the preferred mobility company of the French.
It is vital to seek and find meaning, both in your life and in your work
???? How has the crisis we are experiencing transformed everyday communication?
Indeed, our daily newspapers are changing and all employees within SNCF communication have been trained in the tools digital. However, the real change lies in a new transversality. I see communication as a work that is carried out only thanks to a collective. The crisis has helped bring down the silos and that is a very positive point. The distance has finally, and paradoxically, also accelerated our ability to work as a team. Every morning, managers organize videoconferences to maintain the link and even get closer to their teams. It is vital to promote this transversality.
😳 Between us… what has been your greatest astonishment during these last 12 months?
I did not realize to what extent the SNCF truly represents a small piece of France and its heritage. I was not aware of the place we take in people's daily lives. Thereby, my greatest astonishment was the realization of our essential role. We are visible at all levels: territorial, political, media, local administrations ... We represent a very varied range of know-how. Moreover, the railway workers are sometimes prey to criticism but their work is fundamentally exceptional.
🏆 And you… what is your greatest pride in your life as a communicator?
My greatest pride is above all what we achieve every day, within the team. Communication, when it goes hand in hand with a real business strategy, is a source of infinite stimulation. I would add, as director of communication, that the human side delights me on a daily basis. It is always extremely rewarding to see your teams develop, to make them grow - even if it means one day having to let them take off - and to grow yourself with them.
3 things to know about Stéphanie
His daily source of inspiration? Eternal optimist, Stéphanie likes to detect the best in everyone and unite collective intelligence. In short, his first source of inspiration… it is the others.
Her favorite communication campaign? A classic… the Evian baby saga, both a source of joy and vitality.
His next train ticket? A Paris-Venice, if the conditions allow it of course!
Join the Club We Are COM 🚀
Le Club We Are COM allows communication professionals to progress together during moments of sharing best practices only between peers, all sectors combined. Objective: an increase in collective skills in particular thanks to a workshop each month on concrete cases, responses to the major challenges of the COM, meetings with renowned experts, etc. Always exchanges in complete transparency and independence based on feedback: 0% self-promotion, 100% conviction.