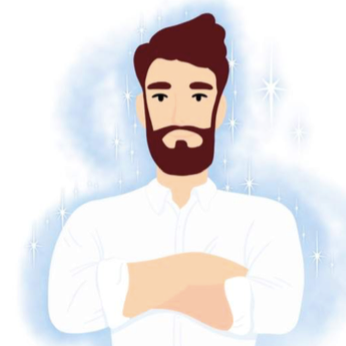 Even if you are not an expert in household arts, there is nothing stopping you from doing some cleanliness in your professional future. 🤓 Because communication is a competitive sector, how can you dust off your CV and shine with your future recruiters? The team We Are COM went to meet Mr Shine, the new born of the head hunting firm Mushroom. This ally of communicators presents himself as a distant cousin of the very famous Mr. Clean. His particuliarity ? It does not shine your interior, but your employability. ✨ Are you ready for a professional lesson & personal branding ?
???? Hello Mr Shine. At We Are COM, we are curious, where are you from and who are your creators?
I am the last born of the firm of headhunters specializing in communication, marketing and digital, Mushroom. My role is to meet the changing needs of communicators who would like to develop their careers. In other words, I was created in order to offer quality support in the communication recruitment process. I am here to "shine" the career of professionals in the sector, so that they are able to claim and get the job of their dreams.
✅ Could you start by giving us your definition of a "good communicator"?
I would say that a good communicator is above all a person who manages to demonstrate flawless adaptability, in the face of any situation. He must be able to convey complex messages, in the simplest and most impactful manner possible. His speech must be both hearable and heard. All this, while taking care to constantly adjust his remarks to multiple interlocutors. On the job market side, a good communicator must know how to evolve at the rate of changes in it.
I would add that, to stand out in the world of communication, digital is and will remain the key. We operate in a hyper-connected world, where mastering the different channels digital has become indispensable. It is therefore fundamental to ensure consistency between the message transmitted and the support used. For this, a communicator must constantly develop his digital culture, and put it into practice by demonstrating unparalleled intellectual agility.
🙄 What are the shortcomings that the communicators you encounter may suffer from? In which areas of communication can you train to optimize your employability?
Most often, a candidate must reassure the recruiter on two major aspects: on the one hand, the ability to structure their words and arguments and on the other hand the ability to synthesize speech. Just like a brand, an individual must "brand" his image.
In general, we observe that candidates who have a long and substantial experience have more difficulty in describing their career in a simple and concise manner. And because not expressing oneself clearly on a subject invariably gives the impression of non-mastery, we support communicators in these agility exercises.
Keep in mind that the recruiter retains more of what is concrete. Illustrated examples and anecdotes are often more powerful than the simple theory. That is why, we teach our candidates how to provide a holistic orientation of their areas of expertise and skills. Note that 10 minutes are more than enough to approach your course, in order to be able to leave a space for the discussion with your interlocutor.
Regarding the field of communication, on which it would be wise to train more, I would say without hesitation: digital. It is essential for any communicator to keep up to date with digital developments and new practices in this sector, so characteristic of our time. Digital is indeed omnipresent and requires constant monitoring to stay on top.
Note that 10 minutes is more than enough to approach your route
🤔 What are the new challenges of recruitment in communication?
The absolute watchword in terms of employability communication is now the ROI. Previously, the expectation of the market was more readily focused on creation. Today, return on investment becomes the key skill of communicators, and this, all profiles combined.
This business approach is becoming more essential than ever, since it makes it possible to address interlocutors who do not necessarily have any notions of communication. This is especially true during the recruitment process. What could be more telling than a concrete result to capture the attention? Thinking heads, who develop strategies and analyze their impact, are most of the time communicators. A candidate's speech must therefore reflect this systemic development.
Today, return on investment is becoming the key skill of communicators
📈 Specialist in employability in communication, what are and will be, in your opinion, the major developments in this sector?
Everything becomes more instantaneous, as evidenced by the many short-term campaigns that we see emerging. It is becoming essential to anchor the speeches over short periods and to constantly reshape them, depending on the vagaries of the market and customer needs. More recently, and to face the health and economic crisis, we have had to regularly rethink our communication actions. In my opinion, this practice is set to continue.
Moreover, this immediacy towards which communication tends goes hand in hand with the increasingly direct sharing mechanisms of Social networks. Indeed, the latter, responding to growing demands, are structured around an ever broader relational approach. Social media skills are essential today. Make way for " Features "High performance, which generate exchanges and sharing, as well as" social selling Booming.
👉 Mr. Shine, what is your calling? Can you tell us more about the concept you are proposing and its challenges?
Just as a communicator develops a unique brand image, we have the vocation at Mushroom to support individuals in building an unrivaled profile. It is about a "personal and professional branding" of the candidates, answering three main objectives:
Shape its image and reputation, by optimizing its communication tools
Improve your speaking skills, in order to perform with conviction with your interlocutors
Evaluate your skills, while discussing the state of the market with recruitment experts
In other words, we offer a comprehensive field approach, which recalls the basics of the sector and provides a global vision of the market, for communicators wishing to evolve or reorient themselves.
Just as a communicator develops a unique brand image, our vocation at Mushroom is to support individuals in building an unrivaled profile.
📌 More specifically, who is this solution for? And how does it work?
The proposed offer is aimed in particular at communication, marketing and digital professionals who wish to give more visibility to their career. Our operational and practical modus operandi takes place in three stages.
First of all, a telephone exchange takes place in order to define clear objectives with the candidate. It is essential to start by developing a roadmap. Secondly, a predictive approach questionnaire is carried out. The latter has the advantage of specifying the personality and therefore the motivations of the candidate. Finally, comes the deepening phase! During a two-hour interview within our firm, we optimize the added value to recruitment. On the program: market update, questionnaire analysis, answers to objectives and preparation for future job interviews.
🔎 Do you have an example of an employability optimization case to present to us?
Recently, we had the chance to coach the Communications Director of an energy giant in the market. The latter, justifying a 10-year experience in this very specific universe, told us of its desire to reorient itself towards a very different sector of activity. For that, she needed to free herself from the codes she had rubbed shoulders with for many years, in order to bring to her CV and her speech, more modern tones, more "entertainment". Remember that the structure of a CV is strategic, since it directly impacts the structure of a speech.
Remember that the structure of a CV is strategic, since it directly impacts the structure of a speech
What challenges did you have to overcome in developing this unique offer?
My creators, at Mushroom, had some challenges to make me a unique solution. The offer that I embody does not exist anywhere else on the market. That's why, I had to market myself from A to Z. The initial idea was to take the opposite view of already existing solutions - too often based on a simple assessment of skills and a little "assessment". A dynamic and concrete approach to the field seemed to be more in line with current developments in the sector.
The solution is aimed at individuals, of course, but also at companies, which would like to develop their employees in internal, or anticipate and support a future change of position.
🙏 Thank you for this enriching exchange, Mr Shine. For the road, would you have any advice for communicators who are wondering about their employability?
My "employability" advice is as follows: master them Social networks and in particular the three flagship platforms represented by LinkedIn, Facebook and Instagram.
Regarding LinkedIn, this network has become essential for all professionals, and all the more so in the communication sector. Beyond setting up your personal branding, be able to produce and distribute content quality, to make you stand out!
Also watch out for Facebook. More and more recruiters are investigating their potential recruits. This makes it possible to observe a complementary aspect of the candidate. So, without watering down your content, be vigilant and know how to moderate what you show about yourself.
Last but not least, the ultimate creative tool is none other than Instagram. It is not absolutely essential, however it can be very useful for the employability of communicators evolving in the fields of digital andinfluence. Obviously, a significant number of followers constitutes real added value in terms of employability.
3 things to know about Mr Shine
His daily source of inspiration? Life and We Are COM ! (Editor's note: we love this Mr Shine, don't you?)
Her favorite communication campaign from yesterday or today? For his quirky side and his humor, Mr. Shine particularly appreciates the Burger King advertisement, featuring the artwork of Maurizio Cattelan. Yes, remember that work "Comedian", a banana taped to a wall, sold for 120 dollars. Ingenious this fry, isn't it?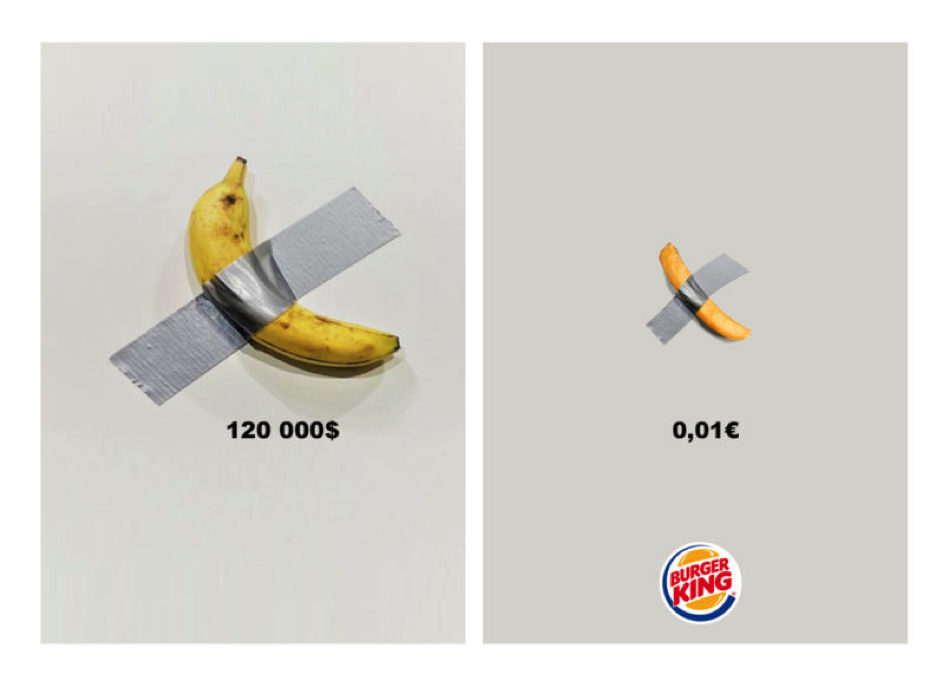 His volunteer commitments? His firm launched during the first confinement, a free platform to boost the professionals who needed it: the operation "Mushroom new perspectives". A win-win action, rewarding for both caregivers and those receiving assistance.