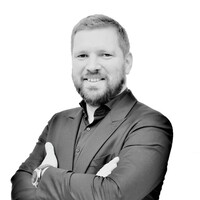 3, 2, 1… ACTION! 🎬 Disclaimer: Reading this will not make you the new Steven Spielberg, but it will be of great help in making your next videos. Because yes, the video has become a support essential communication: it is quite simply the favorite content of Internet users.
So the team We Are COM wanted to know the recipe for THE viral, catchy, captivating video… 🤓 To guide us, the experts at PlayPlay - the easiest online video creation tool - recommended that we talk to Alexis bernard, Director SOCIAL MEDIA of the Crédit Agricole SA group
Go for a rewarding exchange on the social media management and the use of video in communication. Ready? Silence, we're shooting 📽
???? Hello Alexis! To warm up, let's start as always with a definition. What is your definition of corporate social media?
A priori, the term " corporate communication »Invariably refers to the development of a company's brand image, to institutional communication. It is often defined in relation to customer communication or commercial communication. I would qualify this demarcation. It is true that in corporate communication we are more inclined to exchange views with opinion leaders, medias and more broadly communities of interest. However, the reach of our messages is constantly increasing. As the societal dimension grows, our corporate messages must provide both meaning and answers to changing societal issues, which are all concerns for consumers. Diffusion via Social networks is not confined to an audience which would be exclusively a community of experts, for example. Information digital circulate so quickly that any message ultimately turns out to be widely relayed, also affecting a public wider.
🎯 Exactly, what is your corporate communication strategy on social networks?
The challenges are above all those of the image of a brand, a Group, its managers and their influence. One of the objectives is to transmit a message which gives useful information, an insight, which is understandable by our audiences. Dissemination takes place through the company's social accounts and also through those of all stakeholders: employees, managers, customers, shareholders, etc. Corporate words need to be embodied and shared. We must not forget that social networks are above all a space for conversation where it is easier to communicate with real people than with brands.
Corporate speech needs to be embodied and shared
🤔 So your audiences are both internal and external on external media?
It is obvious. Our audience is made up of all Crédit Agricole stakeholders and beyond, the general public. The border internal/external in my opinion tends towards more and more porosity. Of course, employees represent our first circle of influence. However, can a message sent to these 141 employees really be considered an internal message? Also we produce our content in close collaboration with the teams in charge of internal communication such as the teams Press relations.
📢 Launch of participatory loans #relaunch : we are mobilizing all our strength in favor of recovery by investing in #SME et #ETI
🔴 A figure to remember: € 2,25bn
Either the participation of @CA_Assurances to their fundinghttps://t.co/IXOCyGqRAw pic.twitter.com/879sYb6uI0

- Crédit Agricole Group (@Credit_Agricole) April 26, 2021
🎉 How do you share the institutional highlights of the Crédit Agricole SA group?
Most often, the subjects we deal with are complex, and therefore not necessarily speaking to large and uninitiated audiences. The point of honor of any communicator is to translate, in a simple and concise way, a message that is difficult to understand into educational content.. For a long time, infographics seemed to be the panacea for this accessibility exercise. However, for an infographic to do its job requires a lot of time and skill. Time is the key, especially on social media.
This is one of the reasons why we favored video. In addition to being consumed considerably by Internet users, video has become very easy to produce by communicators like you and me. At Crédit Agricole, we use the solution PlayPlay which allows us to illustrate more than 90% of our publications, and this for a quality audiovisual and simply incredible design time savings for our team.
Time is the key, especially on social media
📺 How does video modernize your branding on social media?
Obviously video is now the essential format. It is by far the most consumed media and especially on smartphones. The appearance of 5G has only increased this phenomenon. Social networks have also grasped the importance of this movement, structuring themselves more and more around this audiovisual content. The valuation of video content by their algorithms allows them to increase the connection time of social users on their platform, therefore mechanically the display of content formats. As a result, video has become the essential content for communicators because of the uses of audiences and the greater organic reach that social platforms offer to this publication format. Going to video means being in line with the trends of the moment.

On the Crédit Agricole SA side, we use video as a teaser to bring our audiences to more complete content: studies, articles, surveys, etc. Easy to consume, this format has the advantage of appealing to the target in a unique and fun way. We use video to encourage Internet users to go further by clicking on the link of a study or an article. The strategy teasing is very effective in generating curiosity and therefore commitment. It is a real modernization - even a break - in the classic institutional discourse.
📣 [EXCEPTIONAL SURVEY #weekelagri] 👉 https://t.co/HZNBqOSZTB
58% of French people think that farmers are concerned about protecting the # biodiversity. #FrAgTw#Agriculture@BVA_France @Agridemain @Agricultural credit @CA_info @JcRoubin pic.twitter.com/G0NO1qRdn7

- Crédit Agricole Group (@Credit_Agricole) May 17, 2021
(I.e. Have you defined a specific video graphic charter?
Paradoxically, and to be completely honest, we are not really the best students of the charter. 😀 Obviously, a charter has been put in place: it is limited to the presence of our logo throughout the video, a range of colors and a fade out highlighting our raison d'être. It does not take more to associate our brand with it.
This sobriety results from a choice: we did not want to distribute content that was too "branded" which would risk restricting creativity and the playful catchphrase. With the solution PlayPlay, I particularly appreciate this creative freedom. In addition, overly "branded" formats are too often associated with an advertising approach that undermines the clarity of our messages. We have nothing to sell, only messages to convey, expertise to promote. Finally, We are convinced that our messages are above all the carriers of societal issues. What interests Internet users is not fundamentally our brand, but the answers it is able to provide them. Our brand remains extremely visible - since we are transmitters of the message, of the post - however it must not take precedence over information, over content useful to the Internet user.
⏰ Between us… is it time consuming to produce a video in-house?
La production of videos internally is considerably less time-consuming than the brief of a creative and the endless back and forth with a agency audiovisual production. And especially when content needs to be produced quickly or distributed regularly. Let's take a press release as an example: sometimes we only have about fifteen minutes in front of us to put together a social media post. For more complex productions, we are fortunate to have an in-house video studio and a team specializing in audiovisuals.
The production of videos in-house is considerably less time-consuming than the brief of a creative and the endless back and forth with an audiovisual production agency.
🔎 And why did you choose the PlayPlay solution for video?
It all started at the end of 2017. At the time, I had the same brief as many corporate communicators, the desire to easily produce "Brut!" Videos. ". For reasons of budget, time and not always satisfactory rendering, we quickly ousted the agency solution.
By chance, a comrade working at LCL - a subsidiary of Crédit Agricole SA - mentioned PlayPlay. Shortly after, a friend from TF1 told me about the benefits of this tool. It was then that I met Thibault Machete, founder of the start-up that instantly convinced me. Then only a month later, everything was operational.
In addition to offering the best value for money on the market, this solution makes it possible to develop quality videos, without complicating life with editing software, their licensing issues and the necessary training before mastering the tool. Frankly, audiovisual creation has never been my job or even a hobby. Yet today I easily manage to create content that "looks good". 😀 I would say that I still don't know how to "make" videos but that now I am able to produce them.
I would say that I still don't know how to "make" videos but that now I am able to produce them.
(I.e. What is the part of organic and sponsorship in your corporate social media strategy?
The main trend remains sponsor more what already works organically. We could sponsor everything automatically, because in 2021 without "paid" no salvation for established brands like ours. To control our budget, we allow 24 hours to pass before embarking on a boost. This gives us leeway, a possible recalibration. This does not prevent us from going dark or responding to imperative orders. However, and all the more so in corporate, it is important to focus on content sponsorships that are already echoing organically.
👀 To conclude, tell us… What are your current tips for increasing the reach of your publications?
I would say that the trick, or rather the state of affairs, the flagship of our profession is not to start from oneself: your angle cannot be self-centered. In a real or virtual meeting, via social media, those who are self-centered do not interest many people for the long term, or it would be for the wrong reasons. It should be borne in mind that social networks are a space for conversation and exchange. A corporate subject must in reality constitute a company's response to a societal issue. It is essential to start from the issues and promote our solutions to them.
A second piece of advice that seems important to me is to be understandable. It may seem obvious but in fact it is not always easy to banish jargons from a sector of activity or a company, when you are a communicator immersed in this environment. It is important for any communicator to manage to break free from these too specific languages ​​so as never to forget the language of their target audiences. Address your Internet users in a common way, without falling into familiarity and infantilization.
3 things to know about Alexis
> His media addiction? No, it's not Twitter but… France Info, and more broadly the stations of Radio France. More and more, he is turning to podcasts.
> Her favorite ad? He spent hours having fun with the Tippex commercial featuring a bear and a hunter. An avant-garde communication campaign, because dating from 2012, it already offered interactivity to spectators.
> Her passion ? History because it structures his vision of the world, the present as well as the future. This allows Alexis to take a step back. A necessity in the sector of social networks, communication and more specifically crisis communication.