Mini-fairs for Communication professions We Are COM X ISCOM, reveal to you the path and daily life of communicators. Discover the big and small secrets to getting started in digital communication. Let's go for this episode # 8! ☝️
Besides… what is digital communication?
It takes 20 years to build a reputation and 5 minutes to destroy it. If you keep this in mind, you'll do things differently

Warren Buffett, American Businessman
💥 With the revolution digital, digital communication is more essential than ever. In the world in 2020, 67% of the world population uses a mobile, 59% Internet and 49% the Social networks.
🤔 And more concretely, what does digital communication mean?
In communication, we must distinguish between medias traditional: the press, television, radio, billboards, etc. From what is more commonly called non-media communication. The latter takes place via the Press relations, social networks, sponsoring, customer relationship (CRM), or the natural referencing on search engines (SEO).
There are many digital channels: Web sites, emailing, digital advertising spaces (display, native ads, cover, billboard, etc.), mobiles, social networks and platforms collaborative. At the time of the big date, we are witnessing the explosion of jobs in the digital sector.
📈 Thes brands evolve at the rate of technological developments and the incessant appearance of new media. In this digital ecosystem, it is important to respond to a whole new series of tasks, challenges and needs.
What do the directors of communication (dircom) think?
With the development of social networks, communicators must learn to treat all their audiences with as much consideration.

Dominique Benneteau-Wood - dircom of the Engie group
Take an interest in technology and emerging new formats. Distinguish a fashion from a societal trend. Don't be afraid to be an artisan of communication

Julien Landfried, dircom and public affairs of the Gecina group
Where are the jobs in this digital communication sector located?
The main jobs at the advertiser
✋ Let us first mention the digital brand manager. True guardian of the brand on the web, he manages his e-reputation, manages the systems in the event of digital crises, then develops and measures the actions carried out. Above all, this professional must be curious and open-minded. Creativity and leadership are also essential.
🔎 The Inbound marketing manager is a versatile communicator. He must know how to manage both the inbound strategy - the one that promotes the generation of leads, that is to say of prospects where future clients - projects, writing and distribution. For this, he needs interpersonal skills, a strong team spirit as well as a very sharp sense of analysis.
🙌 Finally, the in charge of digital COM is the digital expert. He manages the line editorial of content digital, also ensuring technical monitoring. Mastery of digital tools is essential for him and a strong dynamism is preferable to him.
We also find at theadvertiser, all kinds of specialist communication officers : webmaster, community manager, social media manager, traffic manager, etc.
The main jobs in an agency
Essential, the SEO consultant is "Mr. Google". SEO corresponds to natural referencing on search engines (Google, Bing, Yahoo, Qwant, etc.). This consultant performs audits, develops content strategies and conducts competitive intelligence. Its writing must be flawless, its analytical skills sharp and its Web culture effective.
Once again, we find the famous community manager. This professional embodies the brand on social networks, thus managing his communities and his e-reputation. It needs to be responsive and creative. A good digital culture and a strong resistance to stress are essential.
Finally,UX designer takes care of the user experience of the sites or mobile applications. It carries out audits that will allow it to define the strategy adequate digital. He manages the implementation of the latter, while measuring and analyzing its results.
But that's not all, in agency we also meet Consulting directors, digital consultants, etc.
Can you see it a little more clearly? So what are the major trends in the sector?
40% of digital jobs are based in Île-de-France.
Jobs that offer the best entry pay: Community manager, acquisition manager, CRM manager, UX designer.
The jobs that recruit the most young people: webmarketing manager, e-merchandiser and community manager.
???? Expert opinion
On the agency side, we receive Sophie noel, Managing Director of Heaven. While on the advertiser side, we receive Luc Bernard, responsible for digital communication and e-reputation of the Casino group.
👋 Hello to you two! What is each of your jobs?
Luc bernard : I am in charge of digital communication and e-reputation for the Casino group. On a daily basis, my role consists of monitoring and optimizing the visibility and image of the company, both on social media and on other digital media, such as forums, wikis, etc. I am also in charge of the coordination of the crisis management dedicated to social media.
Sophie noel : As for me, I am the head of theadvertising company, Heaven, for over 20 years. Our team is made up of around twenty experts, convinced that conversations are now taking place on the internet, via social networks. Thus, I manage the content andinfluence advertisers on digital channels.
⏱ When and why did you decide to focus on COM?
LB : I became communicative thanks to a succession of opportunities. Having always had a particular appetite for oral and written expressions, I first and foremost wanted to become a journalist. So I turned to university. But this framework did not suit me. I therefore reoriented myself towards a BTS communication, which I wanted to do in work-study program to immediately discover the business environment. So I sent several hundred resumes, to COM agencies, media and large companies. I finally got a positive response. I thus had the chance and the opportunity to join a small agency, to become a community manager. A bit of a coincidence, because I was completely unaware of the existence of this profession. But an opportunity because we were in the midst of the advent of social networks. I have never left the COM since. No journalism after all, but I learned to love my job.
SN : We have something in common with Luc. I myself was initially more journalism oriented. This is why I studied at Sciences Po. Subsequently, I had the opportunity to join EY, which then launched its first platform. intranet, then Canal + Image in order to work on CD ROMs (yes, time flies 😀). These two extremely enriching experiences were revealing for me. So I enrolled in a master's degree specializing in communication at Celsa. Today, I absolutely do not regret this choice of orientation.
🤔 What does a typical day look like?
LB : I must not be the first to give you this information which is absolutely not new, in the COM the typical day does not exist. Every morning, I plan to work on my editorial line and on all the content to be produced. However, this never goes as planned. Depending on the news and various contingencies, my schedule can be disrupted at any time. Surprise is part of the daily life of every communicator, and this is why this profession remains fundamentally interesting.
As a reminder, the editorial line represents the identity of a company. What is she going to express herself on? At what moment ? How? On what tone?
SN : Indeed, a typical day did not look like anything 😀, or rather does not look at all like the initial idea we might have had of it. It is essential to constantly be able to adapt, the management of the unforeseen is an integral part of our daily life. In general, I divide my time between multiple strategic reflections - in order to best respond to the complex issues of the advertisers we support - and more transversal but nevertheless fundamental tasks such as human resources or finance management.
😍 What is the most stimulating part of your job?
SN : This question is not obvious. Personally, I like a lot of things about this profession. I would say that the notion of impact is particularly close to my heart. During the various collaborations with the advertiser, it is very satisfying to observe the positive support that can be exerted on one side or the other. The progress of a project emanates directly from a collective intelligence beneficial to each party.
I also appreciate the diversity of the subjects we have to deal with, and especially in an agency. At the moment, we are collaborating with companies in the automotive, retail, entertainment, energy sectors… Each project depends on a specific target and a particular issue. It is essential to demonstrate relentless intellectual agility.
Finally, the balance between the agency's teams, called "the angels" at Heaven, remains and will remain a success of the federation on a daily basis.
LB : Above all, what stimulates me in my profession is the unexpected! And especially when we have to deal with crisogenic subjects. I think this is even more true on the advertiser side. Having to adapt in a short time to a situation that was not foreseen and that we do not master is a real challenge.
I would add that the principle of "conversion" represents something fundamentally interesting. Succeeding in converting an Internet user from critic to neutral represents unparalleled success. But when the latter ends up understanding our reason for being and understanding our discourse, then the satisfaction is at its height. It is never easy to hire an Internet user who necessarily has an idea a priori, of the company, and even more generally of communication.
🍾 Which communication campaign are you most proud of?
SN : Recently, we had the chance to carry out the communication campaign for the film Dumbo, a Disney production. This operation was also rewarded with a social media grand prize. If I quote this advertisement today, it is above all for its accuracy. In particular with regard to the interaction between the advertiser problem and the use made in marketing. Let me explain: is the Dumbo film used to communicate on the difference, or is the difference used to communicate on the film.
L.B. : I would not cite a particular COM project but rather a collective and global success. By integrating the Casino group, in 2017, the company was totally absent from social media. In the space of two years, we have managed to rise to the rank of second player in social media distribution., in terms of both community and commitment. This is a great satisfaction.
🤖 What are the major developments in digital communication?
SN: There are a multitude of evolutions. In my opinion, two major trends stand out. Firstly, we have seen a boom in platforms, especially with the advent of live, which has revolutionized e-commerce, events and also sound.
On the other hand, we are moving towards a new way of consuming. Sincerity in communication - which may seem paradoxical at first glance - emerges. The CSR COM, that is to say that which engages the social responsibility of a company, is proving to be more and more impactful. In the digital sector, this concerns, among other things, carbon production and digital sobriety. It is important to always keep in mind the following question: " How to express oneself digitally, while remaining as respectful as possible of the standards and objectives of responsible consumption? The financial context adds to all this, coming to accelerate the process of engagement, with the balance sheets of company and the annual reports. Now and more and more, sincerity and obligation meet.
LB : Indeed, and I would even say that live is more than just a trend, it is outperforming today. In terms of organic reach, the performance is second to none.
Regarding sound, it has always been present, however today it tends to catch up with image and video in terms of popularity, with the increasing listening of podcastsEg.
Finally, just as Sophie says, transparency increases in communication. It's time to say goodbye to overdone talk, especially in the age of social media. On the latter, honesty is essential. It is essential to admit your shortcomings, and to constantly remind Internet users that we are working on possible improvements.
🎓 Do you have any advice for future communicators?
LB : I would like to pass on some advice to you, which was given to me in the past by the communications director of a large French bank: « always work more than your neighbor! » It doesn't matter whether you work in an agency or with the advertiser, give it your all and prove yourself, especially in the early years of your career. If you show that you want it and "you have it," everything else will flow from it. Never give up when you come up against a subject, and always remember that "you have nothing for nothing".
SN : I would add that the condition for being able to work "more than your neighbor" is above all to love your job. There needs to be alignment between the work done and the raison d'être of the business you have integrated or collaborate with. If the understanding is lacking, then you will drop out. Carry out regular introspections, ask yourself about the consistency of your actions. If it all comes together perfectly, then your career can only be a success!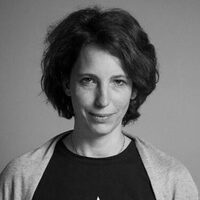 Sophie noel
General Manager of the agency Heaven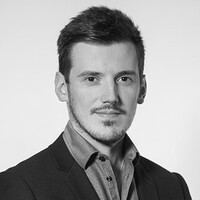 Luc Bernard
Responsible for digital communication and e-reputation of the Casino group