🖋" Communication requires 25% of a leader's time declared the great management and organization theorist, Chester Barnard. And again, the team We Are COM believes that this assertion is well below the contemporary reality. That is why, it is essential for leaders to surround themselves with communicators, with feathers to support them in their speaking out. 🎙 However, it is not always easy to write in place of another because it requires real substitution work.
Because being a leader's pen cannot be improvised, the Club We Are COM dedicated a workshop to this particular communication exercise, where two experts shared their best practices. Frédéric Vallois, pen to the Management Board and Director of Internal Communication of the Vivendi group et Elie-Benjamin Loyer, speech and writing adviser in the Office of the Director-General of UNESCO, Audrey Azoulay. Communicators, forward to become a real feather of your big boss? 😉
Expert opinion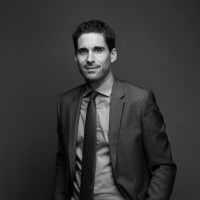 Frederic Vallois,
Reporter to the Executive Board and Group Internal Communications Director Vivendi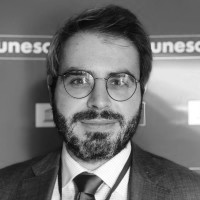 Elie-Benjamin Loyer,
advisor speech and writing to the Office of the Director General ofUNESCO

#1 – Where are you in the organization chart?
Frederic Vallois: My function directly depends on the direction of communication, which is the case with a number of feathers. However, this connection is not exclusive, since our rather hybrid role is at the crossroads of a multitude of issues: communication, general management, strategy, public affairs, etc. Admittedly, I report to the communication department, but at the same time I maintain a relatively fluid and direct link with general management, which in my opinion is essential. In general, and even if it sometimes denies it, I believe that the pen is above all a communicator. When we write speeches, notes or any other language, we are communicating. The pen must be able to benefit from a certain leeway to achieve the best adjustment of its discourse. My mission is in a way "à la carte" internally and I also happen to write for collaborators who are not managers.
Elie-Benjamin Loyer: My writing mission within UNESCO also embodies this transversality evoked by Frédéric. For my part, I am directly attached to the office of the Director General, while maintaining a wide cross-functionality with regard to the various technical subjects. Of course, I have close ties with the Chief of Staff and the General Manager, Audrey Azoulay, but my relationships within the organization are extremely diverse. UNESCO is an international institution whose structure is hierarchical, but also very tree-like. In this universe, I have the chance to occupy a position of free electron, which leads me to collaborate with all the services, in particular that of the communication, to help produce the general discourse of the institution.
#2 – What are the highlights of the life of the company or organization that require leaders to speak? Who are the audiences that coexist?
VF: On the one hand, there are key moments in the life of a company, which lead leaders to speak up. More concretely, at Vivendi, a listed company, we have obligations vis-à-vis the financial centre. Also, certain speeches constitute very strong moments, such as the general assembly, the quarterly results or the editorial of the annual report. These are appointments that we anticipate and prepare in advance.
On the other hand, certain highlights are randomly distributed throughout the year: conferences, symposiums, round tables, etc. During these more random events, the public are fundamentally different. It is essential that a feather knows how to juggle between these two types of exercises.
EB. L. : Indeed, listeners are never the same. Our general assembly, called "general conference", takes place every two years; while every 6 months we approach all Member States of UNESCO for a sort of trustee council – the Executive Board. These exercises, essential in the life of an organization, can be anticipated. Added to these are a multitude of smaller events, whose themes and formats are extremely variable. The smallest speeches represent moments of breathing space, articulated around these real highlights.
#3 – What media do you manage on behalf of the manager? Do you also manage their social networks (Twitter, LinkedIn)?
VF: The main supports for which I produce content are very classic: speeches, notes, reports, elements of language. Moreover, I often co-write them with the press service and the Director of the President's cabinet. The Social networks are not part of my scope and it is not so obvious for a leader to let a third party manage his speeches. The adequate formula concerning Vivendi is certainly yet to be found.
EB. L. : In the same way, I do not deal with the social networks of the Director-General of UNESCO. The communication advisor is in charge of managing his social accounts. We do not intervene directly on these contents, however it can happen to us to formulate proposals inspired by the key messages resulting from our speeches. Within UNESCO, we also have to deal with a multilingual challenge in terms of community management, with many accounts in different languages ​​to manage.
#4 – How to ensure the consistency of the discourse over time, while renewing itself? Can we "recycle" elements of language?
VF: Speech coherence is a daily challenge for the people who write them. Indeed, you have to learn to evolve within the constrained framework of an institution with its own environment, history, culture and codes. In order to ensure the coherence of a speech, it is necessary to respect a strict guideline, while bringing freshness. In other words, we must say the same thing but in a new way. Also, when we recycle elements of language, we have to rework them: stay the course while finding new inspirations.
To succeed in infusing this new breath into the discourse, my advice would be to read. You obviously have to read what concerns your sector, read the press; and also stay curious, in other areas such as literature. The only way to regenerate one's discourse is to immerse oneself in what is being done elsewhere, outside one's environment.
EB. L. : Indeed, and I would even say that the pen is responsible for the coherence of the public speech of its leader. All messages must be produced in the light of institutional memory. A UN institution such as UNESCO exists for the long term, which is why constant renewal is a complex issue. I would add that after a while any pen has had its day. ☺
I agree with Frédéric on his recommendations on reading, it is the absolute basis of inspiration and renewal. With regard to our institution, which is less naturally oriented towards everyday communication, it is also important to immerse oneself in all media products. For example, appropriating the trends and codes of YouTube or TikTok serve to decipher the communication universe in which we evolve and are therefore useful in calibrating as closely as possible the general discourse of the institution. We must go beyond the classic nature of the institutional purpose, so as not to miss its target.
Coherence of speech is a daily challenge for people who write
#5 – How close do you need to be with the leader to be their pen?
VF: Certainly, the relationship must be strong, but without falling into sentimentality. You have to maintain a relationship of trust and closeness with your speaker. It is by knowing its qualities as well as its faults that we will be able to adjust our speeches as well as possible. Our role as a pen is to write for another, so we have to be able to adapt to the other. Nevertheless, we sometimes have a certain leeway, when a positioning is not stopped we can breathe snippets of idea.
In general, the pen remains in the shadow of the speaker, in the "back office" of the final product. As for all communication professionals, words only represent tools loaded with symbols that lead to something else: the explanation of a global strategy or a specific action.
EB. L. : It is true that a pen would most often like to be able to discuss multiple subjects with the personality for whom she is writing. In reality, there is a certain tension between the almost inherent slowness of the feathers, who seek to understand everything in order to apprehend their subject as accurately as possible, and the manager's lack of time. I would say it creates a kind of permanent frustration. After this frustration, the resulting relationship grows stronger over time as we go back and forth to validate a speech, then another, then another… We infuse ourselves with each other. In a certain way, being a feather is a permanent experience, very often it is
When it comes to language elements, getting acclimated to each other's words is also crucial. We support the thinking of an institution, helping to state things as clearly as possible. The first version of a speech is also often used to clarify an opinion on the topic. The pen navigates and adapts constantly, it must show great humility.
The pen navigates and adapts constantly, it must show great humility.
#6 – Are you present during media training?
VF: For my part, I do not intervene on this part related to the elocution of the speech, but more on the pure editorial. Nevertheless, this practice is an essential counterpart to the work we do upstream. The speech is not just a text, it constitutes a performance in itself and goes through many non-verbal elements: a gesture, a posture, a silence, an occupation of space... Moreover, silence is a notion that seems to me far too under-exploited, whose virtues we tend to forget.
EB. L. : The challenge of media training is crucial and I think about it when writing a speech, since I imagine it "said". But, I don't care about that part either. Moreover, a number of UN leaders believe that communication should serve the message, but not be the heart of the message, and that they do not have to convince customers, but Member States, which are not consumers, but sovereign States which choose and direct.
However, the health crisis has accelerated this practice by force of circumstance. Naturally, with the imposed video content, body language has sharpened and the management of silence has been optimized. The pause, the silence, is indeed an important moment in a speech. Getting the timing right is about getting the rhythm right – that's one of the keys to good speeches. As a pen, I sometimes signal silences, by a line break in the middle of a sentence for example. It is also particularly necessary to pay attention to the orality, to the way in which sentences sound or fall: did not Flaubert say that a good sentence must be able to be shouted loudly?
Didn't Flaubert say that a good sentence must be able to be shouted loudly?
#7 – Should the leader be a good communicator?
F.V: Yes quite. The leader must necessarily be a good communicator and integrate good communication into his action. A brand's reputation also depends on what it conveys that is immaterial and non-tangible. Also, a leader must integrate the principles of communication to best embody his company. More and more of them are present on social networks to invest themselves in a personal capacity towards theexternal andinternal. The new generations of decision-makers have understood this challenge and are adapting to the new communication channels available to them.
EB. L. : I would add that, more and more, the boundary between what is and what is not communication is tending to disappear. In the past, the time allocated to the communication of a company was very distinct from the time allocated to its management. Wheras'today, a leader must communicate constantly, even off camera.
#8 – What are your techniques, methods, tips and tricks? What is a good speech?
VF: In my opinion, in the architecture of a speech, it is the introduction and the conclusion that matter most and that the listeners really remember. It is therefore essential to take care of these two key moments of a speech without neglecting the rest. I like to compare this to an airplane flight, where the two critical phases are take-off and landing, between which the cruising regime lies.
A pen must imperatively work on its grip, all the more so in an environment where the attention of the public is diminishing. This can translate into a personal anecdote, which is intimate while resonating with the issues to be addressed, or even a quote, which can also prove to be a profitable choice. As for the conclusion, beware, this is the last moment that the speaker shares with those who are listening to him: absolutely nothing should be let go. The conclusion must restore coherence to the whole speech and leave the audience with a good impression.
EB. L. : The speech must gain height through tangible elements. But before getting there, it is necessary that the public understands why we want to address such and such a subject. This is why the introduction is so important. In the same way, the conclusion must put the issues into perspective, towards a broader idea. Finally, in a speech everything is a question of rhythm and scale, we must go from the most embodied thing possible towards a re-contextualization on a larger scale. Too often the speeches lack flesh and incarnation, at the risk of falling into the anecdotal and the superfluous. On the contrary, like Marc Bloch's historian, we must seek out and feel "human flesh".
A pen must imperatively work on its grip, all the more so in an environment where the attention of the public is diminishing.
#9 – What style exercise do you find the most complicated?
VF: It seems to me that the most difficult exercise is to succeed in finding words that at the same time let the personality of the speaker shine through a little, while bringing a color specific to the institution mentioned. The trap would be to choose generic and therefore interchangeable words. Too often, we tend to draw from a common corpus and to use terms such as "value creation", "agility", "uberization", "disruption", etc. Also, the difficulty lies in our ability to find singular terms for the manager and for the company. This joins the notion of "flesh" approached by Elie-Benjamin: if the discourse is interchangeable between two leaders, it is because something is invariably missing.
EB. L. : The adaptability of a speech is indeed a complex task, since if the text can be recited by others, in the same tone and regardless of the context, then it means that the speech is a failure. Each speech must be unique, but some are more difficult to write than others. This is particularly the case of the speeches of homage, a delicate exercise, which terrifies me. Indeed, personalities who know relatively little about the deceased, speak in front of the grieving relatives. There is then no miracle recipe for finding the right tone, except to be faithful to the commitments of these lives that have ended.
If the discourse is interchangeable between two leaders, it is because invariably something is missing.
#10 – Is it difficult to properly calibrate the format? Too short or too long?
VF: Some events impose the format, a 15-minute symposium for example. On the other hand, when the company lets us choose the format, it's more tailor-made: everything depends on the audience, the context and the issues. Once again, writing for someone else means constantly adapting. I also note that the duration of events as well as that of speeches tends to shorten over time, especially in the private sector.
EB. L. : Indeed, the speeches are becoming shorter and shorter, but also more and more numerous. Compare the speeches of General de Gaulle to those of Emmanuel Macron and you will see. However, the discourse must remain a breath, a suspended moment of the jostled and accelerated time of our time. That's why I'm in favor of short formats, which have time to install a little complexity, while getting to the point. In 7 minutes, for example, it is possible to pose substantive subjects, while certainly sacrificing exhaustiveness, but retaining nuance. The long speeches have more of a function of activity reports, which can have their interest and their relevance, vis-a-vis the shareholders, as vis-a-vis Member States. It is still necessary to be able to calibrate the duration as well as possible. On this subject, no miracle, it is necessary to measure the flow of words of the one for whom we write.
Some practical cases
Because any illustrated theory is always more meaningful. Here is an anthology of successful speeches by leaders, selected by the We Are COM team.
#1 – Jeff Bezos for Amazon
Every year between 1997 and 2020, Amazon shareholders eagerly awaited a letter from Jeff Bezos, who was then CEO of the group. In his last letter to shareholders, the founder of Amazon emphasized the three personal beliefs :
He reminded shareholders that it is their duty to seek above all to create value
He claimed that Amazon is both the best and safest employer in the world.
He legitimized Andy Jassy, ​​his successor, " I guarantee you Andy won't let the universe make us typical »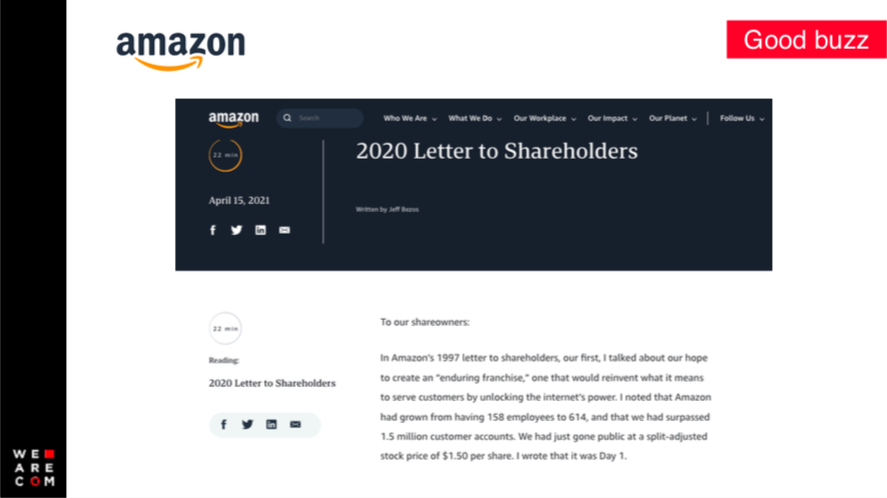 #2 – Emmanuel Faber for Danone
In 2016, a speech by Emmanuel Faber, during the HEC graduation ceremony, marked memories. The ex-CEO of Danone knew how to touch his listeners by going off the beaten track and confiding in his brother's story. His speech puts social justice back at the center of the issues, putting aside the race for growth and power. Moreover, Emmanuel Faber concludes his speech with this open question: "qWho is the brother or the sister, who sleeps in each of you and who makes you the best of yourself (…) how are you going to find the sweet melody that will change the symphony of the world? »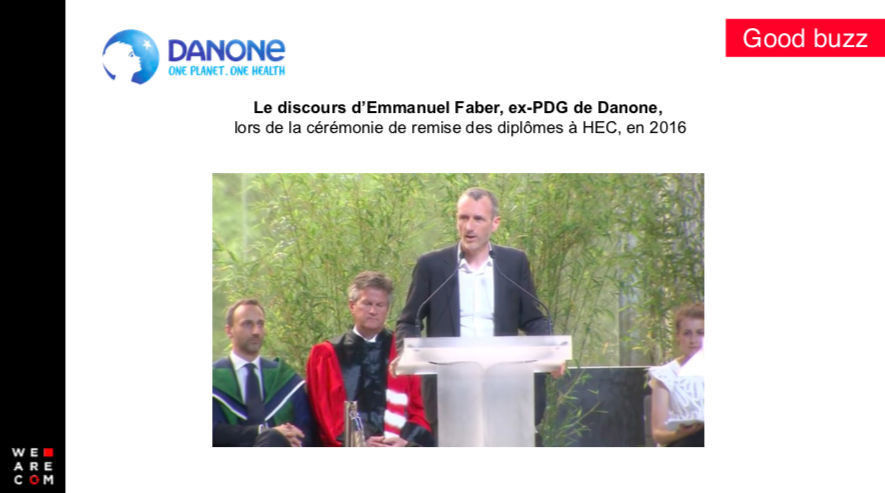 #3 – Stéphane Richard for Orange
In February 2022, Stéphane Richard was preparing to leave the Orange group, handing over his post to Christel Heydemann. On this occasion, and to say goodbye to this leader who is well known internally for his social fiber, a real internal ceremony by videoconference was organised. Indeed, he knew how to mark the spirits, like that of this former administrator of Orange who considers that " he is someone who loves people, who has real human values » and who has a « true sensitivity "," away from cold-blooded, emotionless animals » encountered in the very closed circle of the CAC 40.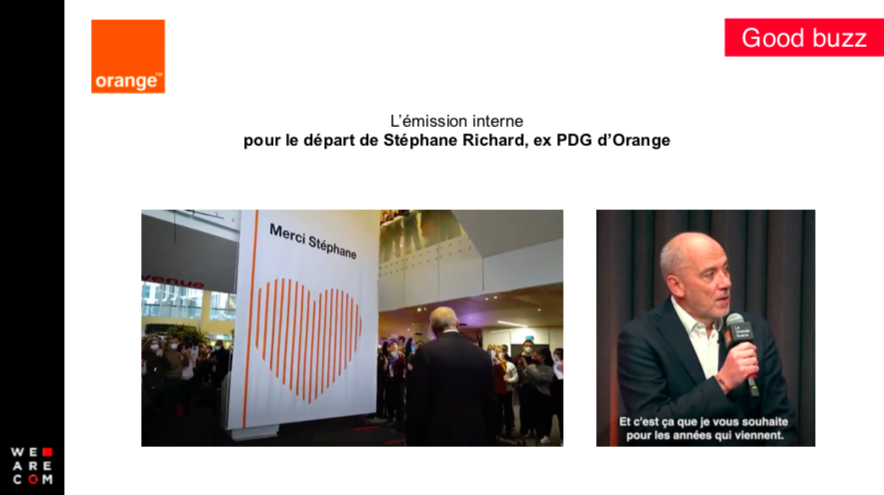 #4 – Michel-Edouard Leclerc for E.Leclerc
Michel-Edouard Leclerc is a well-known and recognized personality in the world of mass distribution, at the head of one of the brands most appreciated by the French. This manager has decided to embody E.Leclerc's communication on his blog "What I MEL About", on which he addresses all sorts of subjects: economy, culture, art, societal phenomena… More broadly, he shares his vision, his commitments and his convictions as an entrepreneur.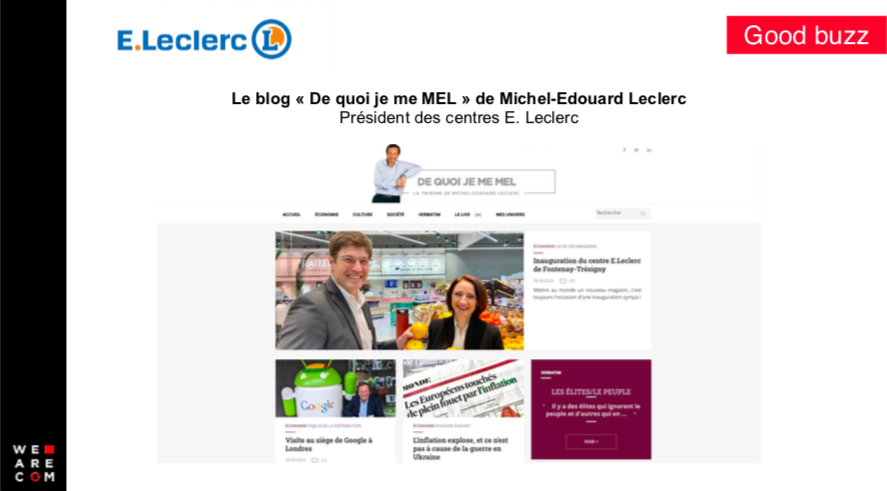 #5 – Elon Musk for Tesla and Space X
The new owner of Twitter is a born communicator, renowned for his explosive strategies and shock phrases. Elon Musk's personal Twitter account, followed by more than 93 million people, is an integral part of the communication of his brands. So much so that in 2020, Tesla decided to abolish its press department. Such a presence on social networks can be a double-edged sword, enabling the leader to raise the Dogecoin price or drop its stock market price in a tweet.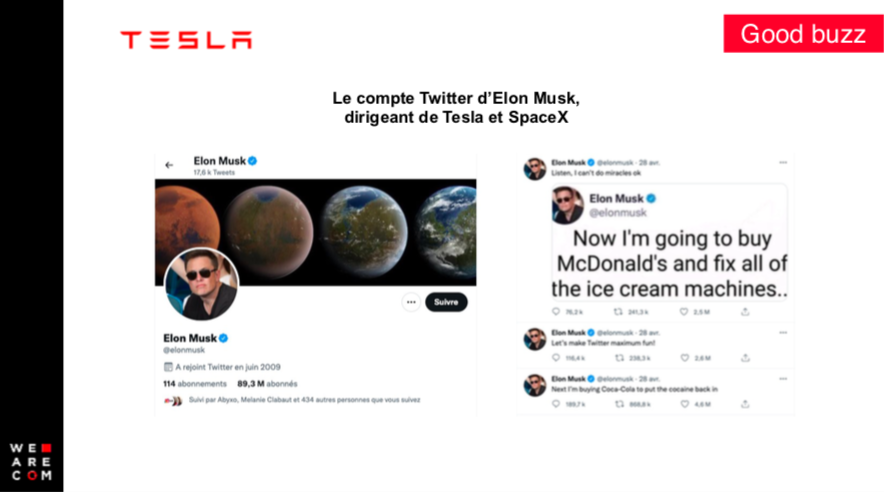 #6 – Alain Roumilhac for Manpower
In France, too, some leaders maintain a strong presence on social networks, which is particularly the case of Alain Roumilhac. The President of Manpower regularly shares his experiences on LinkedIn : signatures of agreements, participation in programs, messages of support, partnerships, barometers of employment… These ranges of content embody the discourse of the company and contribute to its influence. We invite him to join the We Are COM Club!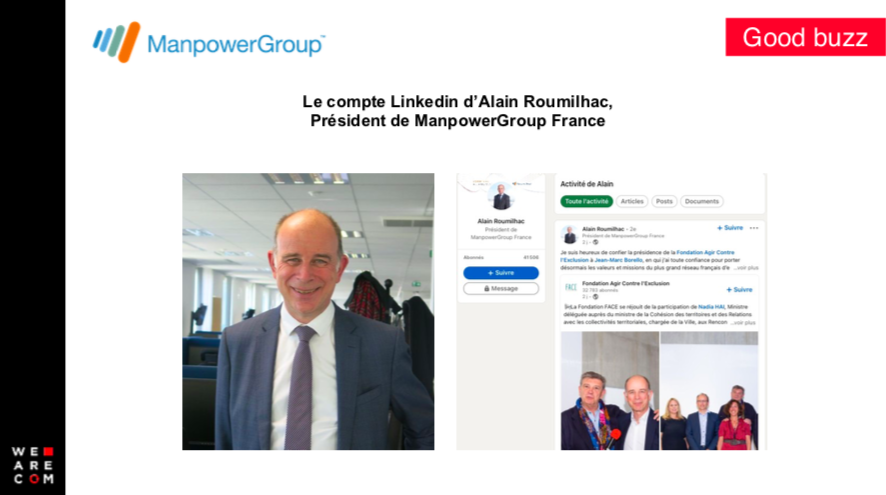 Tips from the We Are COM team for successful public speaking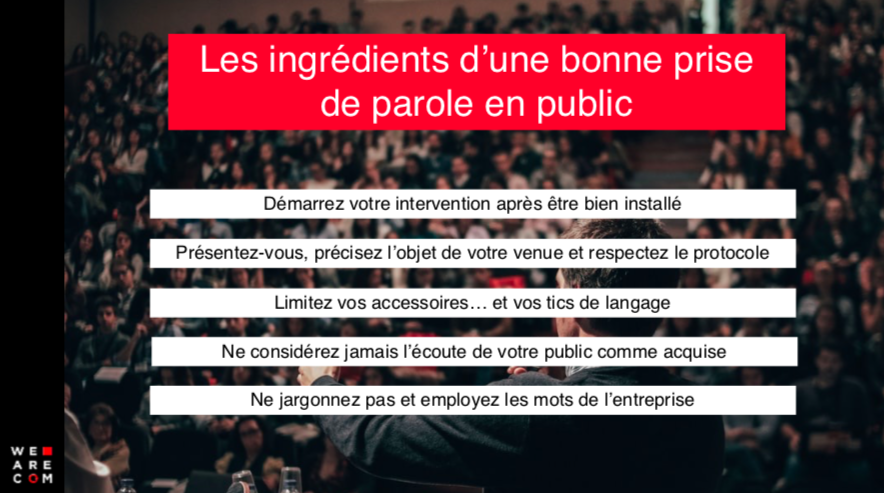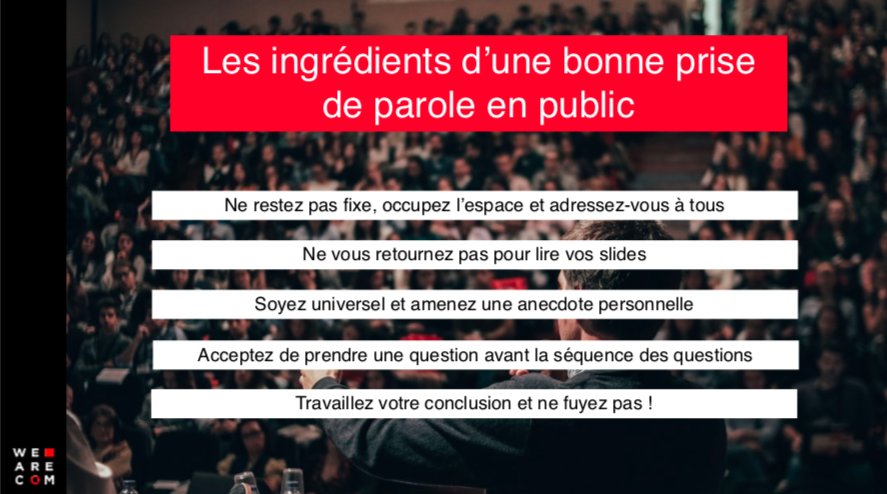 Join the We Are COM Club
Le Club We Are COM allows communication professionals to progress together during moments of sharing best practices only between peers, all sectors combined. Objective: an increase in collective skills in particular thanks to a workshop each month on concrete cases, responses to the major challenges of the COM, meetings with renowned experts, etc. Always exchanges in complete transparency and independence based on feedback: 0% self-promotion, 100% conviction.