Mini-fairs for Communication professions We Are COM X ISCOM, introduce you to the professions of public communication et policy. Let's go for this episode #14.
🤓 And to find out more about the underside of these very specific sectors, do not hesitate to consult our episode #10.
Word to the pros
📢 Our guests of this mini-fair are Valérie Perruchot Garcia, Director of Public Affairs, Communication and CSR from the Janssen pharmaceutical laboratory et Christel Bertrand, consultant in crisis communication and political communication.
Hello to our two experts! To begin with, what is your job?
Christine Bertrand: I am a consultant in crisis communication and political communication. I have always worked in communication. I started out as a senior reporter for France 2 in particular, then editor-in-chief for the morning show of an all-news channel (Cnews). It is thanks to this journey combining these multiple aspects of communication that I consider myself a kind of Swiss army knife of communication.
Valerie Perruchot-Garcia : Just like Christel, I started my career in the world of the press. It was after being able to discover all the aspects of the very complete job of journalist that I became interested in communication. The summaries of all these years of learning have led me to lead the public relations, communication and CSR of the pharmaceutical company Janssen.
Why and when did you decide to focus on communication?
C.B: When I was very young, I wanted to become a journalist. At the end of my studies, I notably worked for television: a senior reporter for the editorial staff of France 2. Over time, considering that I had gone around the sector, the desire came to me to switch to the world of political communication. For years now, I had acquired the habit and the taste of following political personalities in their campaigns, Nicolas Sarkozy for example.
It is therefore quite natural that, reconverted in communication, I continued to follow these political personalities. My past as a journalist taught me to observe and analyze things, to listen to people, in order to be able to re-contextualize everything. And who says political communication, says crisis communication, towards which I specialized more.
V.PG. : I didn't wake up one fine morning thinking that communication was for me. 😀 In reality, when I started my studies, there wasn't really a course in communication. So I followed a fairly general education at Sciences Po, before turning to journalism and the written press.
It was in the midst of the Chernobyl scandal that an ad in the newspaper Le Monde called out to me. That day, I applied to the Press Office of the Atomic Energy Commission (CEA). It was a way of learning about crisis communication, of understanding the issues. Indeed, how to patch up thepublic opinion and the nuclear sector, which was then going through a very bad patch? The question was difficult but fascinating…
Following this instructive experience, I had the will to discover other sectors, not to remain locked up in this or that universe. This curiosity, which most certainly comes from my past as a journalist, pushed me to explore various industries: construction materials, finance, insurance and finally health. I would say that my approach to the profession is therefore very holistic.
What does a typical day look like in the world of political or public communication?
V.PG: There really is no typical day, and that's what makes the beauty of our profession. To work in the world of communication, it is essential to know how to decipher a changing environment very quickly, to be able to grasp very short-term issues while having a strategy for the long term.. What you have to understand is that a short-term response (an immediate reaction, a tweet, a publication…) invariably has long-term repercussions. Like a communication strategy, a public communication strategy is developed by projecting itself into the future, therefore by understanding the issues as a whole. These issues are never the same.
My current scope leads me to also manage the Social networks of the company and its presidency. Indeed, I support our management committee on LinkedIn, fundamentally believing in the embodiment of companies.
Daily, it is therefore not uncommon to go from a morning press conference to a meeting editorial on social networks, then to a session on theinternal and finally to a management committee. And why not end up with an intervention at ISCOM? 😀 Also, my tasks are extremely varied, depending on the resonance they have with my immediate environment.
CC: I share Valerie's sentiment. In communication, the typical day does not exist. We always have a lot of ambitions when a day begins. "I'm going to do this, or that", in reality it never goes as planned. This parameter is to be seen as something positive, at the risk of ending up suffering it.
In general, I try to start my day by listening to radios, reading newspapers and consulting social networks.. It is important to ensure that today's world has not changed too much compared to that of yesterday, because all of this can affect our thinking and therefore our strategies. All the little things that we can pick up during a day can be interesting in a context of monitoring and supporting political figures. It is essential that we understand the concerns of the latter in their entirety: personal, local, national context... It is by understanding and combining all of these issues that we are able to offer them the most appropriate support. , the one that will best meet their objectives.
Also, a day never starts and ends the same way. As for the end of the day, I would add that it never ends at the same time either. When a crisis explodes, it doesn't wait for Monday morning, there are no more weekdays or weekends. Ditto during a campaign, you have to be on the front 7 days a week and 7 hours a day, that's fascinating. Moreover, I like to speak of "crisis political communication", since in a campaign, these two forms of communication merge.
What is the most stimulating thing about your jobs?
V.PG. : First of all, the responsibility, that which we have vis-à-vis the company for which we work, to be constantly a window open to the world, ready to decipher all the major issues. Public communication is in permanent contact with the media, which requests it. This is why it must be on the lookout: understand what is happening externally, what the impact could be internally and how to react if necessary. All of this is quite addictive but extremely rewarding!
CC: The most stimulating is all that we do not yet know, the impression of switching every day (or even several times a day) towards the unknown, to reorganize or reorient a strategy. We must constantly do our best to understand what a candidate wants to say or do, to develop a speech that corresponds to him. We do not communicate on our own values, but on their values. For this, some abstraction is necessary. In fact, this work is fascinating since the human being, in essence, is fascinating.
V.PG: We could compare the support of a political candidate with that of a business leader. When the communicator manages to put himself in the shoes of his manager or his candidate, to define his messages with accuracy and consistency, then the battle is won. The osmosis in a duo is when the public doesn't say to itself "it's still COM".
CC: Indeed, everything depends on this relationship of trust, which sometimes can be difficult to obtain. It is essential that the personalities we accompany give themselves up and expose themselves, a sine qua non for this osmosis. The communicator must put himself in the shoes of the person on whose behalf he is speaking. Without this trust, the collaboration can only work for a while, without solid foundations it invariably ends up collapsing. We must never forget that during a campaign, the emotional charge increases as the deadline approaches.
What are the specificities of political and public COM?
V.PG: Public communication is the communication of "public affairs", that which affects all the different public potential of a company or an institution. At Janssen, public communication is aimed at the general public, our stakeholders (doctors, patient associations) or even parliamentary or ministerial cabinets and institutions, during awareness campaigns.
CC: While political communication, as its name suggests, is communication that revolves around politics: a candidate, a party, a minister, a deputy... Public communication is a public service – which the health crisis has reminded us of – whereas political communication manages a personality and its positioning.
More and more, political communication is an integral part of business life, since the latter themselves have more and more to do with the political world when making important decisions or managing crisis. In other words, companies need more than ever to be informed about their relations with politicians.
V.PG. : It is true that the advertiser needs political communication and vice versa. A member of parliament, called upon on a daily basis, cannot be able to master all the subjects specific to this or that industry. This is where public communication comes in, bringing him a synthetic and simplified message so that he can see things more clearly and make an informed decision.
CB : Remember that the health crisis has erased the barriers between the different sectors of communication. It was a kind of particle accelerator. From now on, any communicator must imperatively be multidisciplinary. We must learn to touch everything, all the more so with the crises to come: climate, cybersecurity, etc.
How to make a career? Where to start ?
CB : Where to start ? Start by studying communications. And why not in journalism, that's where you learn journalistic writing techniques. Editorial is inseparable from communication.
In addition, you have to take an interest in the world around you: travel, read the newspapers, interact with people. For those who would like to focus more specifically on the world of politics, go see campaign headquarters, listen, observe, become little hands, post on social networks… These experiences are instructive. Practice and practice again, that's how you learn to communicate.
it will be curiosity that will make your difference. Be curious about everything, take side roads to constantly enrich yourself. It is also by taking an interest in things diametrically opposed to COM that you will be able to feed your thinking.
VB : As Christel puts it so well, knowing how to write is essential ! Finally, I would say that everyone has an opinion on COM: an idea, a logo, a presentation… But no one ever came to ask me about the quality of a message, once it was written. The quality of writing is the foundation of our profession, it is this unique know-how that makes us essential. I would add that from a career perspective, it is important to be able to handle several languages, especially English. I am Dir. COM of a French subsidiary and yet 40% of my work is done in English.
Where to start ? The schools that will bring you the fundamentals of communication. Then, take an interest in everything and dare to dare everything. I have always tried to break down the barriers within my team, to teach them to switch from internal toexternal for example, so that they can see all the ins and outs of a situation. Never forbid yourself to step aside from what they want to impose on you. In the pharmaceutical sector, everything is very regulated, of course, but we have never refrained from innovating, including in communication.
What are the major developments in the sector?
CC: First of all, among the major developments, there is this erasing of barriers between the different sectors of communication, accelerated by the advent of social networks. The biggest evolution, the one that changed the world of politics was television, I would say that social networks are more of a revolution than an evolution. Today, the codes have changed and it is possible to embody a message on social networks. Local politicians, who previously were only relatively exposed to the media, are now able to embody messages on a daily basis with a good command of digital tools. A report can be shot with a smartphone and a video recording can be done from home.
More concretely, whereas before a campaign clip required huge budgets and big barnums, we can now shoot "pastille" sequences of a few seconds. The subtitles are done in the car and 20 minutes later, the contents is relayed on social networks.
Practices and the profession itself have been revolutionized. Speeches are now immediate, we have become multimedia.
V.PG. : Indeed, social networks have changed our daily lives. In addition to that, the crisis has clearly accelerated the digitalization of companies. We have gone from a daily "full" face-to-face, to video from home, all behind our screens. A few years ago, the idea of ​​making a press conference in digital, while today, everyone is comfortable with these new uses. We have also set up a television studio in the Janssen premises, to sharpen our professional habits.
As far as the internal is concerned, it is necessary to carry out a fundamental reflection, to ask oneself how to reorganize everything. Human contact remains important, so we have to learn to juggle between these more traditional codes and these new practices. The great future evolutions will be, in my opinion, of the order of the hybrid.
What are your final tips for future communicators?
V.PG. : Always work on your employability, don't settle for what pleases you. Communication is a multi-faceted job, do PR, internal communication (this is where you learn the requirements of the job), digital strategy... Take a tour of the owner of the COM! This will allow you to go through the stages, with each time more responsibilities.
CC: Do not hesitate to explore the sectors of communication that appeal to you a little less. The more you dig, the more you will learn. Learn to listen to people who don't think not like you, you have to move towards debate and contradiction. What communicators sometimes lack is this ability to compare points of view. This will teach you to argue clearly, but also to put yourself in the shoes of your targets.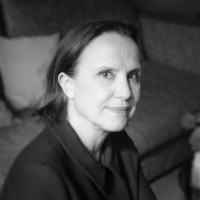 Valerie Perruchot Garcia,
Director of Public Affairs, Communication and CSR France