Mini-fairs for Communication professions We Are COM X ISCOM, present the daily life of communicators. In this episode #16, discover the professions of digital transformation. 🤖 Let's go for an overview of this changing sector?
Digital transformation, quesaco?
With the digital revolution, the communication and marketing professions are changing. 👾 Brands evolve in step with technological developments and the appearance of new uses.
In this evolving ecosystem, the digital communication professions respond to the new series of tasks, challenges and needs of the digital era.
🤓 To find out more about careers in digital communication, consult the mini-living room #8.
Expert opinion
📣 On the advertiser side, we receive Clarisse Castan, Global Head of Social Media & Influence of the Accor group et Arnaud Keravis, Group Digital Marketing Director at Sodexo. While on the consulting side, it is Mathieu Flaig, HR Strategy & Transformation Director at Sqorus, who will testify.
👋 hello to all three, what is your job to each?
Clarisse Castan : Five and a half years ago, I joined the Accor group, a hotel group that manages more than 5 hotels internationally. I am currently in charge of the department social media et influence of the group, which has a multitude of brands from eco to ultra-luxury. And from the world headquarters based in Paris, I manage an international team.
Matthew Flaig : I have been working in the communication sector for 15 years now, always with a red thread digital. My background led me to work in agencies specializing in COM, advertising and social media. It has now been 6 years since I focused more on cross-functional digital transformation, marketing and HR. At the same time, I also wear the "influence" cap, via my blog, dedicated to marketing and new technologies.
Arnaud Keravis : I am in charge of digital transformation, date and innovation for the Sodexo group, particularly on the consumer side. Indeed, Sodexo, which was initially a group B2B, operates a transformation to become a B2B2C company. Before joining theadvertiser, I had the opportunity to work for startups, digital agencies and consulting firms in several sectors of activity, finance and aeronautics among others.
Why and when did you decide to move towards COM?
CC : Initially, I had undertaken business studies, a marketing-oriented course, particularly in the luxury sector. As far as I can remember, I always wanted to work in a large group and in luxury. At the end of this training, we left for Latin America with my best friend, backpack on her back. And back in Paris, after sending more than 150 CVs, I finally had the choice between a first job in communication at LVMH or in digital communication at Accor. Despite my attraction to the luxury sector, and my childhood dream of joining a group like LVMH, I opted for Accor, I had a managerial crush during the interview with my future manager and I followed my intuition.
Gradually, I took charge of digital subjects related in particular to the promotion ofapplication AccorHotels, which trained me in international communication. It was when Maud Bailly joined the group that my career took a new direction. Chief Digital Officer and member of the executive committee, she asked me to become Chief of Staff " chief of staff », on the occasion of the reorganization of the group, bringing together the digital and customer teams around a single "Guest" department. This experience, focused on particularly strategic subjects, taught me a lot, allowed me to meet a multitude of people from different backgrounds and also allowed me to travel..
Finally, last year, I returned to my favorite subject, digital, when I was asked to take over the management of the social media & global influence department for the group.
FM : Once I got my science baccalaureate with a specialty in mathematics, I wanted to study medicine. I quickly realized that what attracted me to medicine was more contact and relationships with people than the very technical approach to things. Having always had a passion for writing, languages ​​and communication, I finally decided to join EFAP.
It was at this school that one of my advertising professors offered me a place in his agency. This experience allowed me to discover the stimulation of work in an agency, guaranteeing an energetic functioning and a multiplicity of subjects. At the time, even if we were still talking about NTIC (new information and communication technologies), the digital was already very present and it seemed essential to me to integrate it into the various businesses. Subsequently, my career led me to work in several advertising agencies and for 6 years I have been more attached to consulting structures. I would say that the big difference between the agency and the firm lies in the fact that, in the first, we are more providers, while in the second we are external partners working for co-creation.
Finally, in a logic of visibility, I created a blog dedicated to marketing and technology topics. This blog is a showcase: monitoring, reflection, content sharing... It is essential to apply the principles of personal branding.
AK: My background is quite atypical, since at the beginning I was oriented towards sales. Following initial training, I wanted to go further by joining a business school, in order to project my profession more internationally. I also had the chance to study in Korea and the USA, to perfect my English and deepen various marketing specialties.
My first internship was a decisive step in my orientation. Having always been passionate about digital, I was looking for an experience in this sector, when a Parisian start-up met my expectations in terms of digital marketing. I quickly put my foot in the stirrup: community management, SEO, CRM… It was at this exact moment that I began to build my career. And after this first line in my CV, I continued to progress, towards ever more digital issues.
Before joining Sodexo, I also worked in consulting, which today allows me to deal with more cross-functional issues and to manage digital transformations on a larger scale. For the advertiser, the advantage is that the digital transformation is experienced on a daily basis and over the long term., we are witnessing this culture of change.
What does a typical day in digital transformation look like?
FM: There really isn't a typical day in the field of digital transformation. All digital players need to capture new trends, to immerse themselves in today's world on a daily basis. To achieve this, you have to remain curious about everything, multiply monitoring and exchanges. This is what my days are made of.
Digital offers us regular proof of our curiosity and therefore of our expertise. Indeed, what is true one day may be obsolete the next day, depending on a subject, the evolution of an algorithm, the appearance of new players... The real challenge is to manage to feed perpetually to stay on top. Also, morning, noon and evening I carry out watches which allow me to best support companies in the complexity of their problems. For this I read books, I consult blogs, I subscribe to newsletters, I watch what's happening on LinkedIn or Twitter… And of course I'm We Are COM. 😀 Being a digital communicator is above all adopting a posture, a way of life.
CC : Indeed, there is no such thing as a typical day. On a daily basis, you have to remain extremely open, curious, attentive and flexible. Topics related to social media have the particularity of moving every minute, even every second. In addition to monitoring, I spend a lot of time with my team, with the agencies that support us and with our partners. Meetings are usually held early in the morning for employees based in Singapore or Sydney, and later in the evening for those based in the US and Latin America. The exchanges are multiple, in particular with regard to the strategy and the part delivered.
AK : In the same way, I don't have a typical day either, and even less since the upheavals linked to the health crisis. We are constantly reinventing our way of working, our lifestyles and the arrival of telework has changed our habits. In terms of missions, we face many problems, multidisciplinarity is required. It is therefore essential to always maintain a link with the profession as such, by spending time in the field. It is an integral part of the life of a communicator to experience brands and their issues in a concrete way. It is by sincerely understanding consumers and customers that we are able to respond most accurately to their needs. Every day, we have to offer new solutions and new methods of communication, innovation is at the heart of our business.
What is the most stimulating thing about your job?
CC : Above all, I would say that the most stimulating thing is the diversity of encounters. Communication is a sector above all centered around the human. It is the exchanges and encounters that build us and also build opportunities.
AK: For me, it is the effervescence and the continuous improvement that seem to me to be the most stimulating. A great leap has been made in terms of digital technology, from NTIC to the metaverse. Trends are constantly changing, influencing the way we work. Also, few professions offer such effervescence and self-renewal on a daily basis. If every day I have a smile on my way to work, it is indeed thanks to this search for perpetual self-improvement.
FM : What I appreciate more than anything in my job is that I never get bored. Digital is fascinating and, by staying curious, the connections we can make are endless. Regularly, new territories, like the metaverse, open up to us. We just need to transform the curiosity that drives us into something that makes sense on a business level.
What are the challenges of digital transformation?
AK: In my opinion, and this goes with the effervescence, the main challenge is that we must constantly follow new technologies, new generations, new needs…. In digital, the evolution is constant and it is a real challenge to take up every day.
I would say that management is also a challenge. How to increase the skills of people who do not master digital? How to acculturate them to this transformation? These questions are crucial.
CC : The most important thing is actually to stay super connected, in this world where everything moves very quickly. You have to observe and analyze trends, while keeping an eye on what the competition is doing. Within the Accor group, a big switch has taken place in terms of digital, it is necessary that the whole team stays on the lookout and multiplies the watches and benchmarks. Finally, to feed yourself ever more, it is essential to surround yourself with the right people, whether with agencies or with partners.
FM: One of the biggest digital challenges is to the very vision of the concept. What definition and what ambitions do you give to digital communication ? Everyone has an opinion on the latter, but it is necessary to agree on the foundations of it, so that the concept can be carried internally.
As Arnaud says, management is also a complex mission. More often than not, people have the impression that a digital transformation is simply going from point A to point B. However, true transformation is constant evolution, perpetual acceleration. This support is complicated, especially when it comes to large companies with tens of thousands of employees who do not all have the same digital skills. A successful transformation is a transformation that demonstrates consistency between theinternal and l'external, while meeting a business objective.
What is the digital transformation project/activation you are most proud of?
CC : Last September, Accor launched a brand new payment card in partnership with BNP Paribas and Visa. The ALL Visa card that we offer allows you to pay for everyday purchases. Its particularity lies in the fact that it allows you to acquire loyalty points which allow you to access unique and exclusive advantages and experiences (a PSG match, a concert at the Accor Arena, etc.) or to pay your hotel costs. For the launch of this card, we wanted to develop an unforgettable communication, a major event. At the time, traveling to Dubai, I had attended drone shows, the idea then came to us to organize Europe's largest drone show. This the countryside is today one of the most awarded, it has generated more than a million views.
AK: One of the projects of which I am most proud is that of the digital transformation of Ma French Bank, placed in the hands of the consulting firm Accenture and in which I collaborated. We were several hundred communicators to accompany the teams of this online bank on the definition of its strategy. What is an online bank? Who are the targets? What information to send them? How, in a more technical way, to build an online bank, starting from scratch? How to define a brand image? What consumer acquisition plan to deploy? How to express yourself on social networks? I find this experience extremely interesting, it shows the multiplicity of things that we can achieve in an agency or in a consulting firm., to complete an end-to-end transformation.
FM : Many projects can make a communicator proud, especially some less ambitious projects. When we know perfectly well a platform, we can afford more creative freedom.
To answer your question, I would quote a project carried out for Blizzard, which wanted to launch a new online game, Heroes of the Storm. For this launch, we projected 3D elements onto a building, which gave a fascinating effect of movement. By connecting to the company's site, people could play and influencers had even been integrated into this project, seeing their projected avatar. The rendering of this launch was stunning, and yet this operation had been set up in just a few months, but by motivated and passionate people. I cite this example because it seems to me to be the perfect mix between creative freedom, a stimulating project and a substantial budget.
What are the major developments in digital communication?
FM: Digital now affects many sectors of communication: internal, external, HR… Also, the major developments are vast. Social platforms evolve at breakneck speed, it is necessary to stay informed. For example, luxury brands did not dare to launch themselves on social networks until 12 or 13 years ago, for fear of degrading their brand image. Today, these brands have adopted a new posture, that of being loved by many, but bought by few.
More concretely, I believe the future will be immersive. I am talking about, among other things, the metaverse and augmented reality filters. It's important to go where our targets are and to learn to work with these new tools, always keeping impact as our objective.
CC : I would say that the heart of the reactor is social media. The figures speak for themselves, according to the latest Hootsuite study, 82% of consumers use social platforms as their first source of information on brands, or that 92% of consumers trust influencers more than brands. Social media and influence are on an extraordinary scale, with ROI 11 times greater than those generated by more traditional advertising banners. All the key players have understood this, there is a real switch from communications budgets to these digital channels.
AK: Among the major developments in digital communication, two are, in my opinion, major developments in the short term: hyper-personalization and data. Firstly, hyper-personalization allows the right message to be sent to the right person at the right time, this optimizes the consumer relationship specific to each one. On the other hand, data is useful for gaining a better understanding of consumers and therefore respond more adequately to their expectations in terms of experience.
Do you have any advice for future communicators?
AK: Above all, be passionate. Digital is ultimately more of a passion than a job. Stay passionate about building and building as you go. I would add that it is essential to choose your internships well, the first steps are important in a career.
Mr. F: Be curious, be demanding and make yourself visible. In communication, the subjects are fascinating and the people are passionate, but be careful not to accept everything. In agencies for example, more and more the culture of cool is put forward, learn to say no to that and to respect a certain framework. It's not because you take pleasure in working that everything has to be justifiable.
Finally, I would say that with the advertiser, you have to show great versatility, be a Swiss army knife and touch everything. While in an agency, you will be more asked to guarantee a very specific expertise.
CC : Follow your intuition and stay in tune with your values. If you give yourself the means, everything will become possible so do not hesitate to take risks, and work to achieve your goals.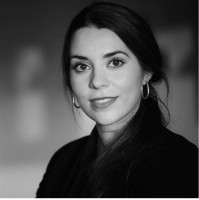 Clarisse Castan,
Global Head of Social Media & Influence at Accor Group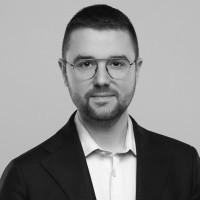 Matthew Flag,
HR Strategy & Transformation Director & Digital Advisor at Sqorus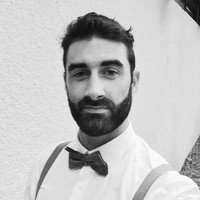 Arnaud Keravis,
Director of digital transformation, consumer data & digital marketing at Sodexo