« It takes 20 years to build a reputation and 5 minutes to destroy it. If you keep this in mind, you will do things differently!", said the great Warren Buffet. 🤓 Well precisely, it is with this in mind that Frédéric Fougerat, a key personality in communication, embarked on the adventure ofagency, melting Tenkan Paris.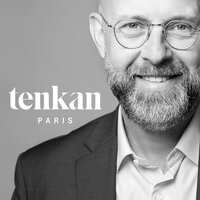 Drawing on his experience as Communications Director (Altran, Elior, Foncia, etc.), Frédéric Fougerat now puts his expertise at the service of the image and reputation of sensitive personalities. Team We Are COM wanted to know more about this new project. 🚀 Building an image and crisis management, he reveals his new strategy of anticipation and reaction to the era of immediacy. A lesson in reputation, given by the most influential of communicators! 😎
Hello Frédéric, DirCOM for more than 35 years, you gave us your vision of communication. Also, to start, we would like to know what is your definition of reputation?
Who says definition, says dictionary. I therefore share with you the definition that I propose in Le Dico de la Com published by Studyrama editions: " Reputation: synonym of public opinion towards a person, a brand, an organization... Beyond the work of notoriety, which allows to be known, a brand like a public figure, must also work on its reputation, so that its notoriety is associated with a positive image or a favorable opinion.. In communication, reputation is worked on in particular through press relations and social media, to reach a wide audience, and to public relations, to reach more qualified targets ».
Recently, you moved to the agency side, creating Tenkan Paris, what were your motivations? And besides, what does "tenkan" mean?
My main motivation was the search for a form of autonomy, independence, freedom. After 35 years of directing public and then private communications, I also wanted to no longer be the communicator of a single leader, a single brand or organization. With Tenkan Paris, I have the chance to choose those with whom to collaborate for the duration of a mission or over time..
As for tenkan (pronounce /ten/kan) this brand name comes from my practice of aikido and means swing in Japanese. This verb describes a movement of anticipation and reaction, requiring both speed of execution, agility and precision. It symbolizes in the face of an attack, the strategic vision, mastery of body and mind, intelligence and the power of action and reaction, necessary to decide on a position to adopt. It seemed to me to be an interesting, striking, even significant brand name for a crisis communication consulting and support agency.
Tenkan describes a movement of anticipation and reaction, requiring both speed of execution, agility and precision.
Today, you want to support public figures and leaders more. What are the main differences between advising an individual and advising a brand?
The publicly exposed individual having become a brand, he must be given the same communication codes and principles as a brand. However, there is an important nuance, it is the human dimension of this personal brand which is, by nature, more sensitive. It is necessary to take this into account and adapt the strategy and the writing of this singular communication.
The publicly exposed individual having become a brand, he must be given the same communication codes and principles as a brand.
Precisely, with Tenkan Paris, you dedicate your expertise to crisis management, to the image and reputation of sensitive personalities. What are the main issues and challenges of your audiences?
The personalities, men and women, who want me to accompany them all have a profile that is very exposed or at risk of becoming so, but very different issues. It is sometimes a matter of reposition the image of a well-known personality, for which it is necessary to rework the story. It can also be about discreet personalities who voluntarily or involuntarily come out of the shadows, and that we must prepare to face notoriety, to write their story, to position, to value and promote, but also to protect and preserve.
How do you support them concretely?
For public figures, in France and abroad, I am mainly called upon to work on their image. This ranges from support for public speaking, for members of governments who hate the exercise but who are forced to do so by their functions, to presidential candidates in different countries, who wish to integrate me into their leadership. campaigns or in their crisis communication pool.
Currently in the private sector, my main request is essentially crisis management, and above all crisis anticipation, which very few managers are prepared for. I am also asked to accompany leaders in the personal branding. Again and again a question of image and reputation.
In the era of hyper media coverage and overexposure, where the crisis is becoming a permanent risk, what do you think are the most effective ways to avoid it or, if necessary, to minimize it?
Before talking about ways to deal with the crisis, any communicator should be prepared for the crisis. Preparation is the number one rule for coping well with crisis communication. Because when a crisis occurs, it is essential to devote 100% of your brain time to understanding the situation: to analysis, to reflection, to strategy, to action. There is obviously no question or no longer a question, and especially too late, of thinking about the organization. All the organizational, technical or material questions should already have been dealt with: where does a crisis cell meet? Who summons her? Who animates it? Which communication process to follow? Who are the journalists who can objectively help you? Who are the institutions on which to rely? Who are the internal and external influencers to rely on? Who is experienced in speaking out, specifically in a crisis situation? Who speaks? Who announces the bad news? Who announces the good ones? Who manages brand visibility at an accident site?
These first questions are numerous and crisis management would be catastrophic if we had to improvise to answer them. All of this is in preparation, all of this is anticipated. Preparation also means having trained leaders in public speaking beforehand, and having acquired tools for monitoring the press or social networks. Finally, it means having put in place the tools necessary for the coordination of the crisis and communication. But few organizations are fully prepared for the crisis, even the most at risk.
Because when a crisis occurs, it is essential to devote 100% of your brain time to understanding the situation: to analysis, to reflection, to strategy, to action.
In your opinion, what are the major developments affecting reputation and image in the years to come?
I'm a rational mind and therefore not a fan of science fiction. 🙂 This does not prevent having a vision, without projecting myself into a too distant future. And when no one is able to say if Twitter will still exist in a month, it is difficult to predict what communication will be like in ten or twenty years. The only thing I am certain of is that the best communicators will always be able to reinvent themselves to adapt to future developments. And this, always thanks to skills: having political sense, being a creative force, mastering brand intelligence, being PR strategists, thinking digital native.
Finally, do you have any last advice on image and reputation for the We Are COM community?
Image and reputation can and must be worked on permanently and over time. They must also protect and preserve themselves, because they can deteriorate or even collapse very quickly. My recommendation is therefore never to neglect these aspects of communication and the work value associated with it. Because image and reputation are not abstract concepts. It is work and time for reflection, analysis, writing, creation, organization, programming, production, promotion...
3 things to know about Frédéric
???? His mantra? "Thinking is hard, that's why most people judge" Carl Gustav Jung.
???? His medium? His favorite medium is Twitter. He does say "stay". But for how long ?
🚂 His ad of the year? The last campaign that touched him the most, the one he would have liked to sign, was undoubtedly the SNCF campaign – Hexagonal. According to him, it is a masterpiece of Stéphane Chery, the Director of the brand, advertising and partnerships of the SNCF group.